Watertight Webschool is coming…
We are in the final stages of creating the Webschool learning platform. We can alert you when it goes live…
Access our comprehensive learning platform
Work your way through the materials chapter-by-chapter, or one marketing leak at a time, at a pace and depth that suits you.
The Watertight Marketing book is just the start of your journey to underpinning sustainable sales results. Behind every key idea, model and framework, we have worksheets, case studies, tools and templates to support you in applying the approach in your own context. These include: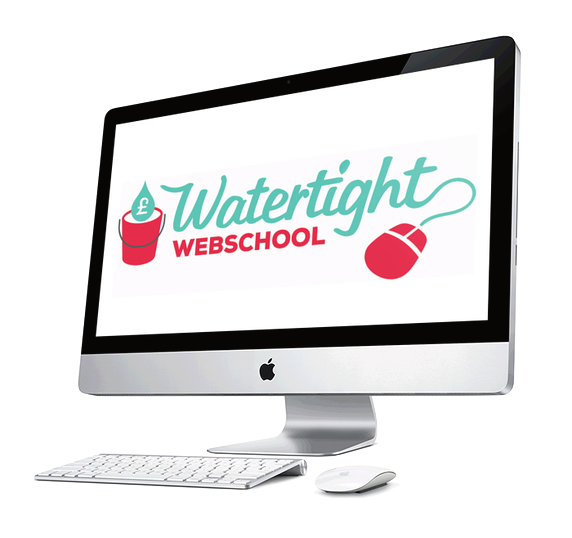 Free Overview & Getting Started Courses: A set of core courses that show you how it all fits together, and gets you into using the materials.
Chapter Companion Courses: A structured video-guided course, with pen & paper exercises and worked examples designed by Bryony Thomas.
Leak Tweaking Tutorials: A full set of videos, worksheets and examples for each of the Touchpoint Leaks™  to allow you to work through them in the sequence that's right for your own content.
Technique Tutorials: Short courses that overlay the methodology on a specific marketing technique, e.g. social media.
Tips & Interviews: Quick and practical answers to the questions we're most often asked, with expert interviews where they have answers to bring.

Company Learning Account
Set-up a company-wide learning account for 25+ people so that they can access the courses and resources they need to support your Watertight Marketing Operation.

Practitioner Guided
Work with a Certified Practitioner to determine which courses and resources you need, supplemented with coaching and faciliation with them to apply it in practice.

Self Serve
Work through the materials under your own steam and at your own pace, dipping into the support groups and fortnightly Q&A to have your questions answered.
Watertight Webschool is coming…
We are in the final stages of creating the Webschool learning platform. We can alert you when it goes live…
How much does Watertight Webschool cost?
You can dip into the materials, or work through them at depth, on a pay-as-you-go basis.

Free Account
The free learning account gets you access to the overview and getting started courses and an invitation into our lively community groups.

Monthly Subscription
Subscribe for a monthly course credit allocation. You then redeem your credits against the courses you wish to access. All subscribers also have access to live fortnightly Q&A.

Pay-As-You-Go
Buy the courses you want, when you want them. You will also have access to fortnightly Q&A in any time you are active within one of the courses you've bought.
Watertight Webschool is coming…
We are in the final stages of creating the Webschool learning platform. We can alert you when it goes live…