Translate Marketing Knowledge
into business-building know-how.
Train and mentor your marketers so that what they know doesn't just make sense in concept, but really translates into bottom line results for your business.
Translating concepts into business results
Have you ever felt frustrated that although your marketers have qualifications, they don't seem to know what to do? We see this a lot. Marketing concepts that might achieve a great exam result, but don't follow through into bottom line impact in the real world. Translating a conceptual model learned in a classroom, first into a strategy that fits a growing business context, secondly into something that makes sense to the non marketers in your team, and then thirdly into a practical action plan that delvers, is a real skill.
Marketing knowledge gets lost is translation for lots of reasons. We often see that marketing qualifications are either all strategy (ANSOFF and Boston Box anyone?), or all tactics (Facebook Certified Digital Marketer anyone?). Further than that, the case studies used in an academic context are largely consumer focused, and largely, well, large! There are very few marketers in real world roles for whom the Apple or Coca Cola case study they looked at in their studies are in any way relevant to their jobs (Apple-sized budget and Coke level brand recall anyone?).
"No matter how long you have worked in marketing, a couple of hours reading this book is time well spent. The principles throughout are straightforward and clearly laid out, with great examples of how to make them work for your business."
Watertight Marketing bridges all of this. It is academically informed, practically applied, and proven in consumer and business-to-business settings and in the very real context of scaling small businesses. What we offer to marketers, at every stage of their career, is a  way of organising, selecting, explaining, and applying the right concept to the right context.
Marketing as an organisational capability
One of the key things that we've done as we've designed and refined that Watertight Marketing methodology over the last two decades, is to find ways that empower marketers to get buy-in from their colleagues. It's as much the marketing professionals' guide to explaining marketing to non-marketers, and it is a comprehensive guide to setting up and running a world-class marketing operation. 
Our training courses always set the learning in context of your wider organisation. This is not a course that you quietly go off and do in your own time to chalk up your credentials. Our training and mentoring is always a team activity, where you (the person responsible for marketing in your organisation), your team of people who have 'marketing' in their job role, and your non marketing colleagues.
If you are the person responsible for marketing in a growing business, you'll need a ripple of influence that spans from your own expertise, to the team you manage, and across into those that you don't. We exist to enable exactly that.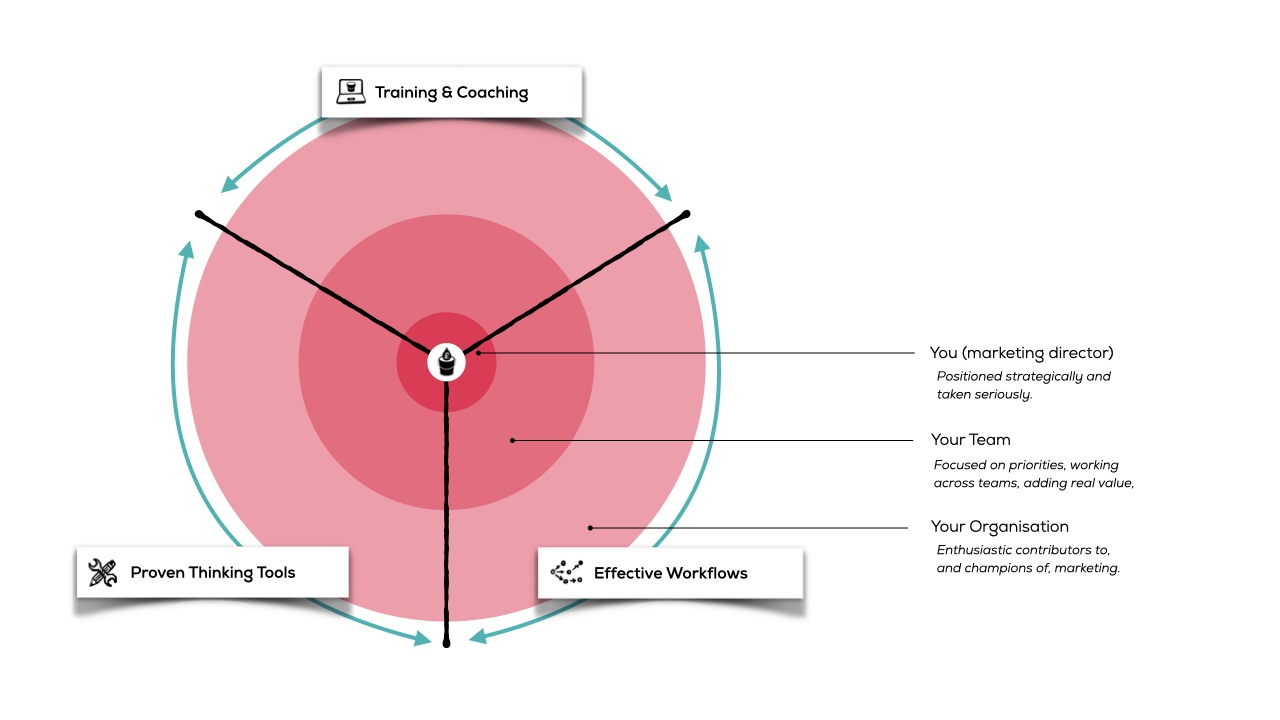 We offer a companion programme that sits alongside The Opportunity Group's Digital Marketer Level 3 Apprenticeship, so that a growing business can ensure the results aren't restricted to the exam room.

Team Training
Work with us to take all of your marketers through the Watertight Marketing methodology at the level that suits their role. Our full methodology mastery courses take up to 15 months and are tailored for marketing execs, managers and directors.

Certified Professionals
We will soon be inviting applications to attain Watertight Marketing Certified Professional status, demonstrating your mastery of the methodology and ability to apply it in practice, as increasingly demanded by clients in our transformation programmes.
Get your marketing on firm foundations.
Focus your efforts on what matters.
Achieve sustainable and scaleable sales results.
Small businesses matter.
Thriving small businesses are the results of countless hours of emotional and financial energy. Often the founders and directors have risked their mortgages, marriages, mental health, and more. When these people tell us that their marketing isn't working, we know it really matters.