Watertight Marketing is marketing that supports every step of a buying decision, so that your business achieves long-term sales results. A strategic snapshot of your marketing spending can give you an indication as to whether you're achieving this. You get to this by looking at the mix of marketing activities you're using and working out roughly what level of influence they have against each of the six marketing tasks that support the buying decision.
A quick diversion to tell you how I came up with this approach, as I think it helps to show how powerful it can be…
I was asked to present to the Board of a company where I was new in the role of director of marketing. I knew that the implication was for them to assess where budget could be diverted to employ more salespeople because leads weren't coming in. I knew this was because the marketing budget was being spent (without my consent) on client entertainment; restraining lead generation activity. It was only when I used this visual approach that the penny dropped on cause and effect. And, I got the support I needed to re-plan the marketing in line with the strategy.
Step One: Set out the steps
Create a spreadsheet with the six steps of the buying decision down the left-hand column:

Step Two: Separate out your core activities
Across the top of the columns, list the key areas of marketing spend in your budget. For example:
Public Relations (PR): to include all your spending on media relations, press releases, etc.
Advertising (AD): to include all paid-for on and offline advertising.
Social media (SM): to include social media support, blog writing, etc.
Etc. (you will have more!)

Step Three: Estimate their influence
For each area distribute a total of 100% down the steps in the buying decision according to how much influence that key marketing activity has on each stage in the process:

Step Four: Add in your spend
Now, add in a column alongside each key marketing activity to show the spending on that area:

Step Five: Apportion spend by influence
Split the total amount by the percentage you've attributed to each step.
For example, where the whole PR budget is £1200, the advertising budget is £3000 and the social media budget is £720 (there would be more areas of spend on a real marketing budget):

Step Six: Output your chart
Then output your spend as a bar chart: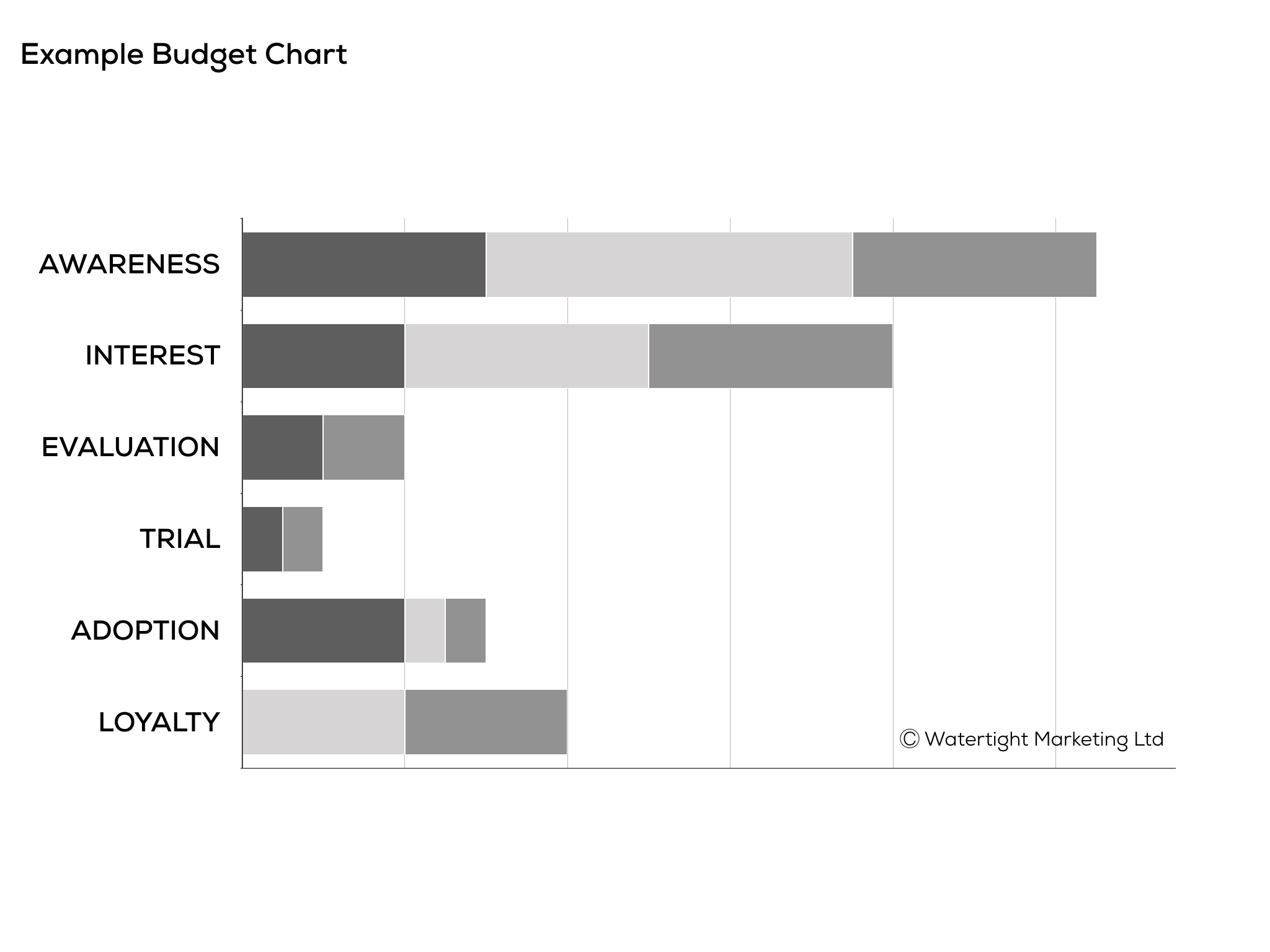 This exercise gives you a powerful tool for both designing marketing programmes and allocating your spend. You're not aiming for an even split, and there's no right or wrong shape to a marketing budget. It will vary depending on the complexity and maturity of your offering.
If you have a range of offerings, it may be useful to do this exercise against each of your main products and services. The aim of this is to know where you are putting your money against the buying decision so that you can ask yourself if the split is right to support your objectives. This gives you a powerful visual snapshot of any areas of particularly high or low spend. Neither is in itself a problem, it just acts as a flag to review what you're doing in that area to make sure you have your mix right.
Visuals are powerful! You can use this chart, or charts, to help you plan your mix of marketing techniques, ensuring that you have every task supported. It can also be used to track any changes in focus over the year. This serves to highlight any likely peaks or troughs in new business as the impact of the spend comes down stream later on.
I will follow up tomorrow with examples of typical budget shapes to look for according to the type of buying decision, and the market maturity of your offering.
© Bryony Thomas | The Watertight Marketer.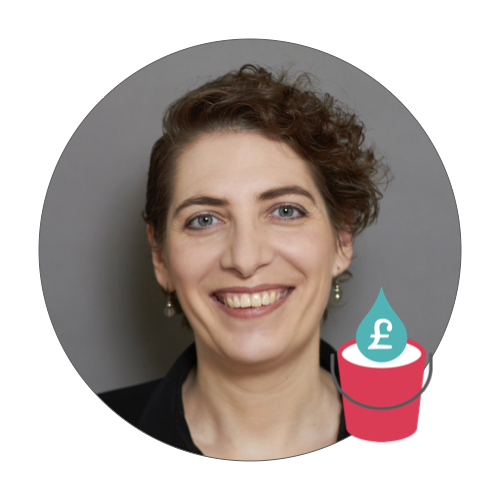 Bryony Thomas
Author & Founder, Watertight Marketing
Bryony Thomas is the creator of the multi-award winning  Watertight Marketing methodology, captured in her best-selling book of the same name. She is one of the UK's foremost marketing thinkers, featured by the likes of Forbes, The Guardian, Business Insider and many more, and in-demand speaker for business conferences, in-house sales days and high-level Board strategy days.