Knowing the shape of your marketing budget, that is how much you're spending in supporting each step of a buying decision, puts you in a powerful place. Yesterday, I walked you through a six-step process to get visual snapshot of your marketing budget. Today, I'm running you through the sorts of shapes you typically find to support different strategies.
Budget shapes to support different buying decisions
The emphasis of your marketing spend will vary according to the type of decision the buyer is making. Picture a continuum where low-value, low-complexity decisions are on the left (think can of soft drink or envelopes for the stationery cupboard), and high-value, high-complexity decisions are on the right (think family holiday or software system for a team). There are typically three highly effective budget shapes I've encountered that can be mapped against this:
The Crescent: If your business model needs a high number of relatively low value sales, you'll typically need to keep the Taps running and work hard to generate multiple repeat purchases from existing customers. This is often most true in product or transactional businesses.
The Sail: Where you need a steady flow of medium value sales, and then enter into a one-to-one relationship with someone, it's often getting over that first purchase hurdle that takes the most effort. This might be a consultancy or business services company.
The Ski Slope: This is especially true of low volume, high value, sales. Particularly where there's a mix of product and service. Large IT systems design, implementation and servicing are an example of where this budget shape is often seen.
Budget shapes to support different market maturity
Your budget shape will also depend on how well established your offering is. It stands to reason that if nobody knows about you, you'll need to spend more on generating awareness and explaining what's on offer. For more established offerings, you can often reduce your spend at the top end of the process because your offer is well understood, redirecting this to maintaining and growing your income and referral value of existing customers.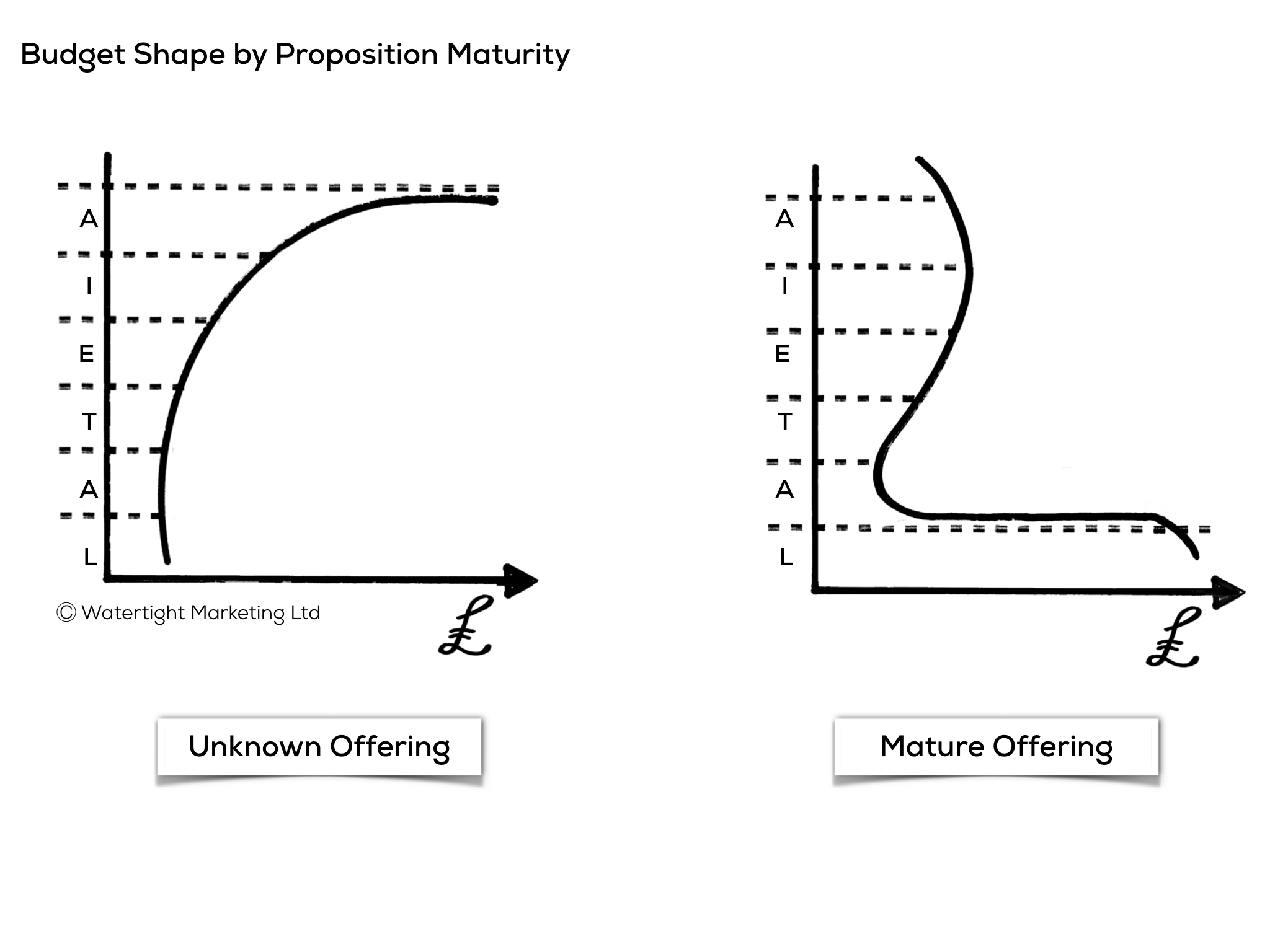 Finding the budget shape that's right for your business
This may look highly scientific, but it is important to remember that it is a visual representation of a subjective view. Powerful, but subjective.
The subjectivity here is in how much impact different techniques have at different stages. As you've gone through your planning using the Watertight Marketing principles you should have selected an appropriate marketing tool or technique for each task, giving you a good sense of which marketing has an impact where. Whilst this locates the main task on which each activity has an impact, this planning technique allows you to show the more nuanced view of a tool or technique having a level of impact at multiple stages.
If you want to add some rigour or increased objectivity to this, there are a few ways to decide on how much influence a given technique has on each step. You can:
Run a workshop with key people from sales, marketing and service to agree an apportionment.
Conduct surveys or focus groups with customers to get them to assess what they saw and responded to at each stage. (This can be tricky, as people often post-rationalise decision making, meaning that emotional stimuli are downplayed).
A best guess – this is honestly a good starting point.
A combination of all of the above.
In most small business settings, I'd recommend that you start by using your judgement, and then seek to firm it up with evidence and feedback over time.
© Bryony Thomas – The Watertight Marketer | Illustrations by Lizzie Everard.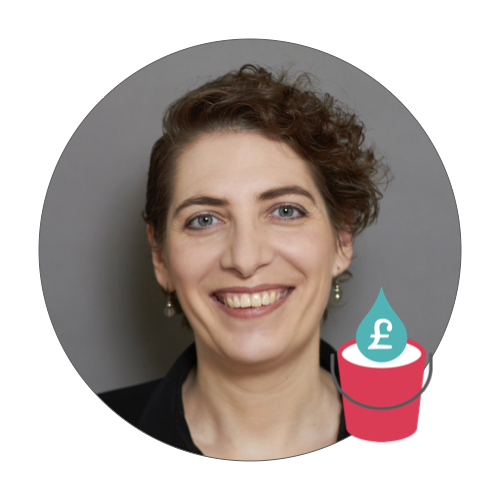 Bryony Thomas
Author & Founder, Watertight Marketing
Bryony Thomas is the creator of the multi-award winning  Watertight Marketing methodology, captured in her best-selling book of the same name. She is one of the UK's foremost marketing thinkers, featured by the likes of Forbes, The Guardian, Business Insider and many more, and in-demand speaker for business conferences, in-house sales days and high-level Board strategy days.