Audenza took a Practitioner Guided approach through the Touchpoint Leak Assessment and the Chapter Companion Courses on the Watertight Webschool. This was supplemented with strategic marketing projects with a Certified Practitioner.
Client: Hollie Brooks, Co-founder, Audenza (previously MiaFleur)
By a combination of hard work and implementing Watertight Marketing our turnover has doubled in the past year. It's taken the weight off our shoulders and we've gone from thinking 'Is this going to work — to yes, this is 100% going to work — now let's keep it growing, year on year."
Background
Audenza is a family run online boutique of handmade, quirky and unique accessories for the home and garden. From beautiful furniture to an extensive collection of home accessories, Audenza focuses on products that are truly different, scouring the globe to bring their customers something unique, inspiring and worthy of a place on the site.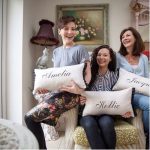 Founded in October 2012 by Leicester based mother Jacqui Brooks and her two daughters Hollie and Amelia, Audenza has an eclectic style that has already found its way to being featured by the likes of The Sunday Times, Harpers Bazaar and The Telegraph.
Hollie Brooks looks after the marketing at Audenza and recently shared her experience of working with Watertight Marketing — something they started in February 2015 and have really seen the benefits of in 2016.
How Watertight Marketing helped
The relationship came about very naturally over a period of time. Hollie had been looking for marketing advice and came across the Watertight Marketing website and also followed @watertightmkg on Twitter. She also chatted to author Bryony Thomas and listened to webinars. She then bought the book, and that's where the clarity of the methodology really made sense.
As Hollie explains, "I've read plenty of marketing books but none of them has touched Watertight Marketing. They were all heavy on jargon where Watertight isn't. It breaks the terminology down in such simple, non marketing jargon, that you can understand and visualise. All of a sudden you get it. Coming from a non marketing background Watertight Marketing just clicked for me and I knew what I should be doing."
Audenza started working on the Watertight Webschool course in 2015, and then stepped it up with a full Practitioner Guided journey through the Chapter Companion courses in January 2016. By this time they'd also completed a Touchpoint Leak Assessment and, with additional support from Watertight Marketing Certified Practitioner, Cheryl Crichton, had a much clearer view of their marketing priorities.
So what actions did they take?
One of the biggest benefits of adopting Watertight Marketing methodology was how it helped them look at their marketing from the bottom up. Rather than spending money, they started by saving money. For Hollie, the benefit is very clear "The reason our profit has increased even more than our turnover is because Watertight Marketing have helped us work out where not to waste money on marketing".
But there's clearly a lot more to doubling turnover in a year, and the secret was actually very close to home. Audenza soon realised that, rather than hiding the fact that they are a small family business, they should be using this this to their advantage — and build a much better emotional connection with their customers.
Leak #3 —  No emotional connection
Although customers always have choices it's often the business that the customer likes the most, or identifies with the most, that will win the order. And, as a business, you need to be the kind of people that buyers want to buy from. An emotional connection shows that human touch, particularly that a business is friendly and approachable. So, how did Audenza find theirs?
As Hollie explains, it was by turning what they thought was a negative into a huge positive. "Bryony and Cheryl helped us realise that being small was a major plus point. We should be shouting about it and putting our pics on the website and it would actually help create more customer loyalty — and it has. Even little tweaks, adding more personal touches have really helped build that emotional connection."
And it looks like customers are really buying into this as Hollie explains. "We're getting comments from customers we've never spoken to before saying how much they love the fact we are a family business. Our marketing has created the connection to make them want to leave this kind of comment." She adds, "it's really subtle things too — we use a thank you flyer with a picture of us and a thank you stamp 'sent with love'. Our customers seem to remember that — and they even share pictures of our material on social media. We've shown that we're not a nameless, faceless online business and that's really down to working with Watertight Marketing."
Leak #4 —  No Gateway
Audenza realised that one of the challenges of being an online business was encouraging customers to take that first step to purchase. As Hollie explains "with e-commerce we are not on the other side of the counter, we can't have that face to face conversation so it's important that our marketing does it for us."
Leak #4 addresses how easy it is for customers to buy from you — and the more you can do to give them a flavour of what it would be like as a customer, the better. This is often achieved by designing a service that helps buyers understand and visualise how they might work with you.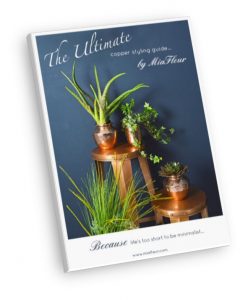 Always on the button when it comes to fashion trends, Audenza realised that copper styling was huge — so they created their Ultimate Copper Styling Guide — and it's been a great success. Not only does it give potential customers a valuable guide that showcases their styling knowledge, it's been a big hit on social media growing email sign-ups by over 40%.
In a similar approach, Audenza have recently launched their Vignettes feature — where they combine 5 related products that go together and sell these related sets as a packaged 'get the look' deal. Hollie is delighted with the reception, "we've had a positive reaction on Instagram. It gives people the confidence that all these products work together really well. They can use our styling or do their own. It's a bit like being their personal stylists — customers really like the combinations."
The breakthrough
Looking back, it was the way that Watertight Marketing made them look at their business that was the big breakthrough. Many of the marketing tactics they are now benefitting from came about because they first took a step back.
As Hollie explains, "I used to think of marketing mainly about how to raise awareness and get people in. But, if you haven't stopped your leaks in the first place you can waste a lot of money. This was probably the breakthrough moment for me — the visualisation of the bucket, funnels and taps and the importance of the emotional connection. It's such a simple thing but it has really changed how we think about where to spend money in the business."
Hollie also rates the Touchpoint Leak Assessment process. "As a business owner you can be overwhelmed and you think you have to try all these ideas but actually the Touchpoint Leak Assessment gives you a breakdown of all the marketing areas you need to consider and then what you need to focus on. It shows you how to approach marketing and where to start. This plan of action was a great help to us."
Related post: What are the Thirteen Touchpoint Leaks?
The future
Thanks to their growth, Audenza will soon be taking on their first employee from outside the family which is a huge leap for any business, but particularly for one that, at one point, had doubted if their idea was going to work. The website is going to be revamped and Hollie will again be taking her inspiration from Watertight Marketing. "I'll be implementing aspects of Watertight Marketing throughout the design — and we'll add even more emotional connection content. Working with Watertight Marketing has given us the confidence in what we are doing but also equipped us with the marketing knowledge to go forward and grow the business." [UPDATE: The business was renamed, rebranded and new site launched in 2017, the confidence for which Hollie credits to her learning with Watertight Marketing]
Cheryl Crichton, the Watertight Marketing Certified Practitioner who guided Hollie and Audenza through this process, added "I absolutely love working with Hollie and her team. Least of all because they have found the time and conviction to tackle their marketing head-on, which also benefits from their hard-wired creativity and naturally great ideas." 
"By following the Watertight Marketing methodology Audenza have found a way to better understand their customers, the task of marketing, and how to go about getting it done. They have systematically tackled their leaks in the right order, with the right amount of effort and the right amount of budget. Also, as well as running a busy business, they have done the very tricky job of finding the time to actually do it all because they understand you have to speculate to accumulate."
It's these very things that all small businesses find very daunting for the outset, so having that leap of faith in a methodology like Watertight is a bit of a 'deep breath' moment. But Hollie knew that she would not be alone and Audenza are a very welcome member of the Watertight Webschool. They are extremely generous with sharing their thinking and experience, which benefits many other people on the journey."
"Aside from the fact that I really love the Audenza product and everything they are doing, they are a pleasure and delight to work with and I have been really proud to be part of their journey."
© Watertight Marketing Ltd
---
This marketing case study was prepared by Watertight Marketing Certified Practitioner – Ben Wheeler.
Hollie was interviewed about her approach to marketing on our client panel at our online conference in 2016: