Reading Time: 5 Minutes
If you are a marketer in a scaling business, the first audience you should be characterising is your colleagues. How they perceive marketing has a direct impact on how effective you can be in your role. Let's take a look at how they might see it, and what you can do about it.  ~ Bryony Thomas, Author | Watertight Marketing
In our typical client, a £2-£20m turnover SME, the marketing 'department' is very often one person, maybe two. It's very rarely a core discipline within the business (at least, when we start out). Often, marketing is something that businesses come to a few years down the line. And so, marketers are walking into a culture where, until now, things have operated perfectly well without them.
To be truly effective in this context, the marketer's first communications job is internal. And, just like any other comms challenge, understanding the perception gaps in what they think and what you offer is a great place to start. So, let's do just that, using the Considered Purchase Continuum model from Chapter 1 of Watertight Marketing.
If your colleagues put marketing on the left hand of this continuum, they're not going to take it seriously and you wont get the support you need to make a meaningful long term impact.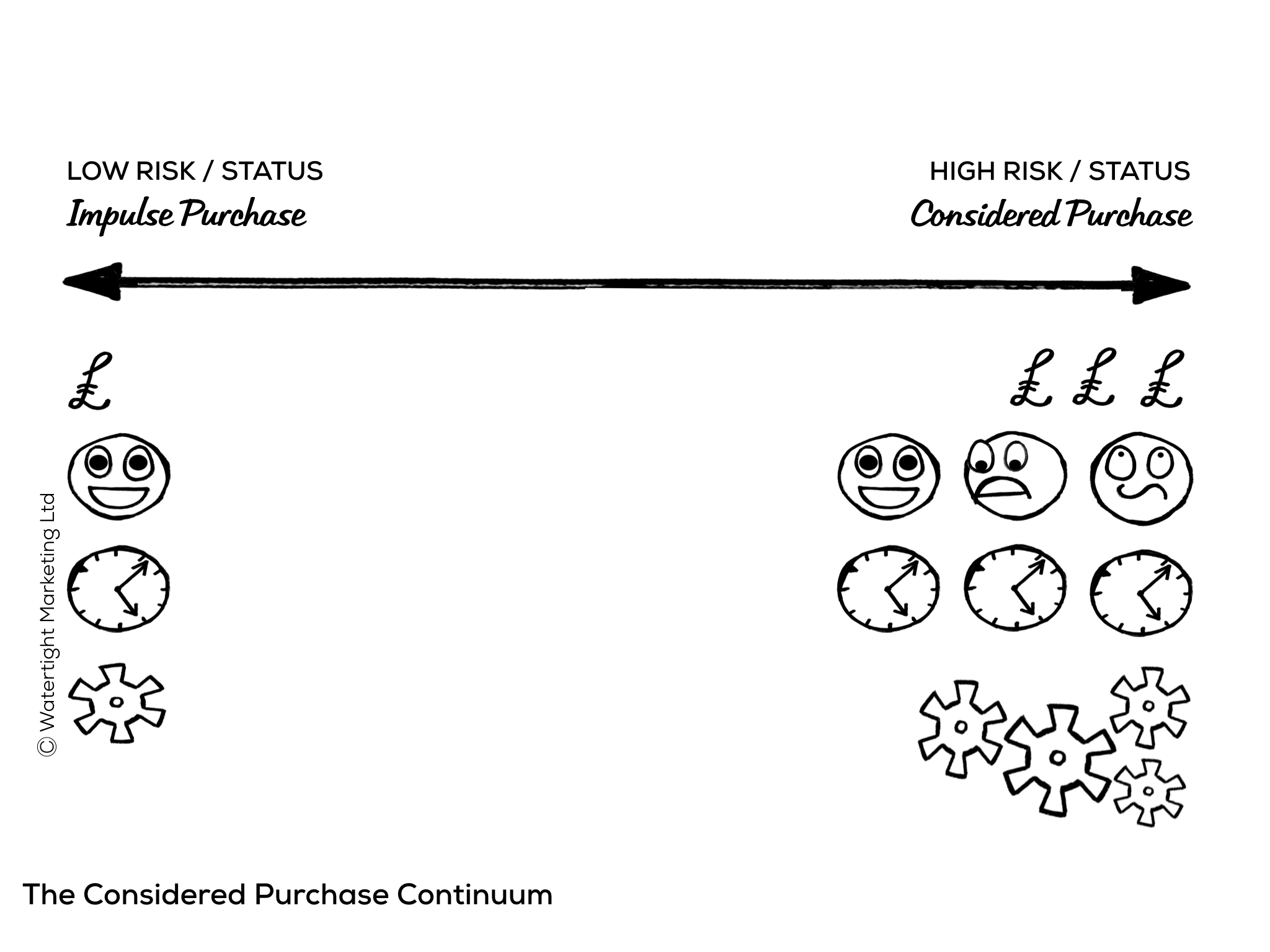 Financial Perception
How do your colleagues see marketing financially?  We could probably put Optional Expense at the left hand side of this line, and Strategic Investment on the right. The closer they are to perceiving marketing as a sensible investment, the less friction there will be in your role. Businesses that have never previously spent money on marketing, are often nervous about it. This makes them behave in skittish and short term ways when it comes to the budget. Using our Visual Budgeting technique from Chapter 9 can be a bit of a breakthrough on this one.
People Perception
Whose responsibility do your colleagues think marketing is? If on the right of the continuum your leadership team and colleagues embrace that they have a role to play in marketing – labelling this Key to all Roles, your job will be easier. Whereas if they think they can hand it to you, walk away, and operate at arms' length – labelling it a Peripheral Responsibility, you're in for a bumpy ride. We work on overcoming this by running sessions on the Touchpoint Leaks from Chapter 2, this seems to get the penny to  drop on collaboration across a customer journey.
Timeframe Perception
How quickly do they expect results? On the right hand side people readily perceive that marketing provides a Long Term Returns, and on the left they expect Immediate Payback. The closer they are to placing what you do on the right, the smoother ride you'll have in terms of making real strategic change. If you are working in a business expecting a conveyor belt of quick wins from their marketing, it's hard to make a meaningful impact that sticks. Walking people through the Time Horizons element of marketing measurement in Chapter 10 will help you enormously.
Functional Perception
How easy do they think it is? If your colleagues see marketing as tactical 'colouring in' — that is they think it's Pretty Easy, and that a smart grad with no prior experience could probably do it, it will be hard to get their proper attention and input into what you are doing. If your colleagues have a true appreciation of marketing as a Complex & Nuanced discipline that takes years of learning and experience to really understand, your ability to be effective in your role is much increased. We find getting them to complete the Watertight Marketing Test, to bring the Flow Foundations from Chapter 2 to life, can really make a shift in getting non-marketers to see the strategic reach of marketing into every aspect of the business.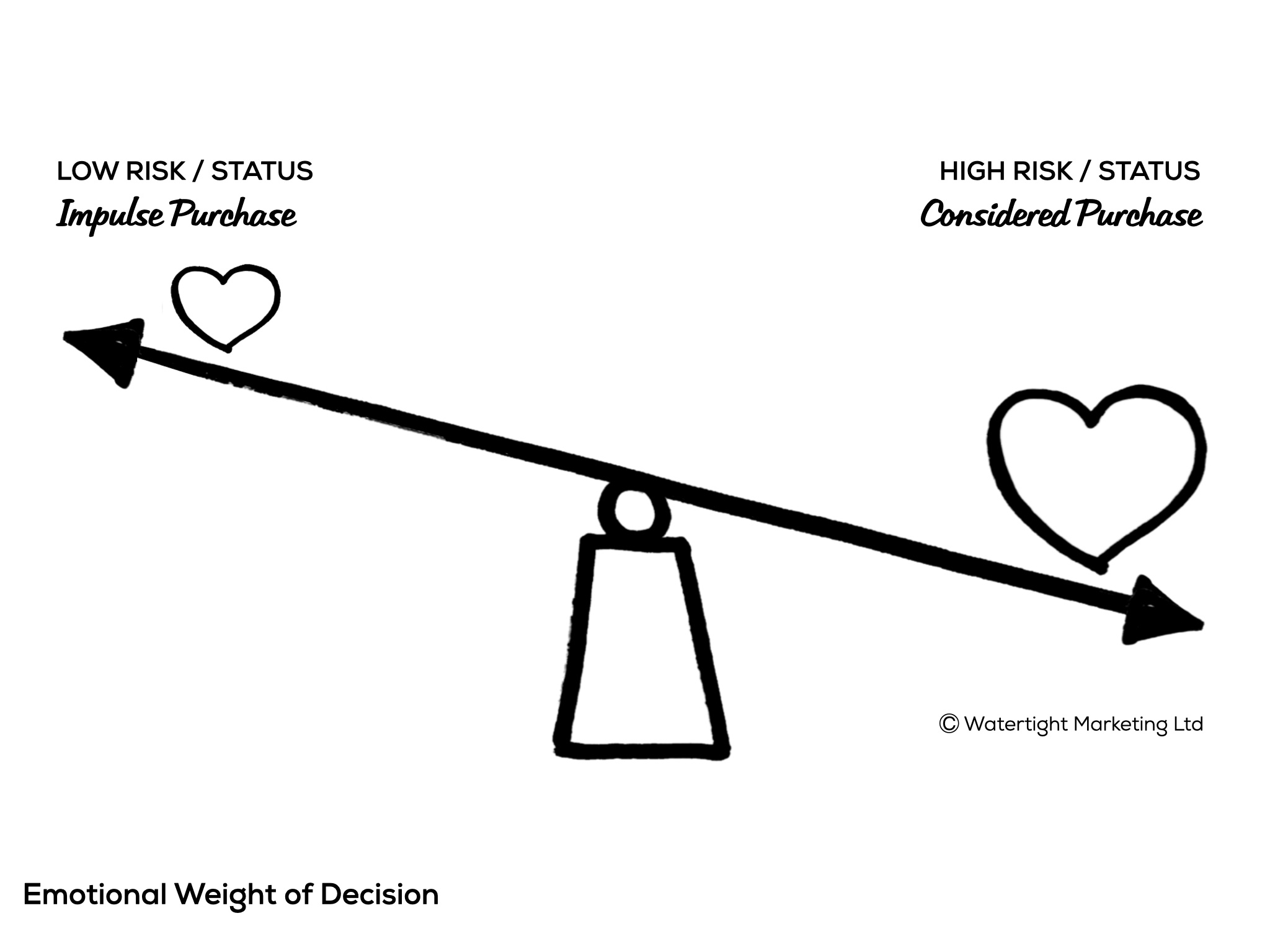 Emotional or Status Perception
How do your colleagues see marketing emotionally? Do your leadership team and other colleagues see marketing as the Afterthought (left of continuum), tarting things up a bit once all the real decisions have been made? Or, do they see it as Core to (right of continuum) understanding and communicating what you're all about? If it's the former, your frustration in the role is likely to be high. We've found the Flow Foundations a really useful lever for shifting this perception amongst even the most cynical of clients.
Your colleagues are a key audience for any marketer that wants to make true and lasting strategic impact on their organisation. It's one of the reasons that we start all of our consulting engagements with internal research. You can do all the market analysis you like, if your colleagues don't have open minds to marketing, it won't get you very far!
STOP PRESS! Would you like to find out more about how to ensure that your colleagues see the marketing position as the important role it should be? Why not join us on 2nd February at 12pm for our free #WatertightWednesdays webinar – How do your colleagues see marketing?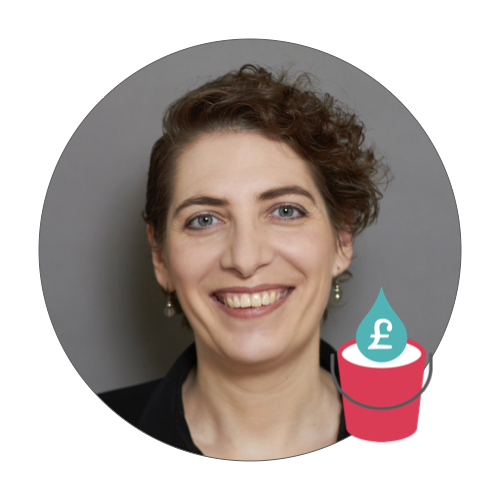 Bryony Thomas
Author & Founder, Watertight Marketing
Bryony Thomas is the creator of the multi-award winning  Watertight Marketing methodology, captured in her best-selling book of the same name. She is one of the UK's foremost marketing thinkers, featured by the likes of Forbes, The Guardian, Business Insider and many more, and in-demand speaker for business conferences, in-house sales days and high-level Board strategy days.