The Right Work
First Flow Foundation
Your Healthy & Nutritious Diet

The Right Work
The Right Work sits at the intersection of purpose and profit, ensuring that your business is both fully energised and resourced. You know you have this right when a good 80% or more fo the work on your books lights your soul, and tops up your bank balance.
You'll get a sense that you're on wobbly ground with this one if you have a fair number of clients that leave you exhausted, or barely cover their own costs. Other signs that this needs attention are that you hate saying no to potential new business – not least because you don't know who or how to refer them on with dignity. You may also find yourself struggling to put your prices up, and wasting time responding to enquiries for work you don't, or would rather not, offer. You may also be finding yourself being reactive, rather than proactive, about showcase opportunities for your business.
Customer Characterisations
Development of four clear Customer Characterisations for each of the four quadrants of the PP Matrix.
Product / Service Analysis
Assessment of pricing and cost-to-serve to determine profitability, then strategic value and other factors to assess the purposefulness of your market offerings.
Competitor Review
Understanding how your propositions sit within a competitive landscape, including identification of your Real Competitors
Proposition Clarification
Using this information to develop, or clarify, your core set of Complete & Compelling Propositions.
Four Profit Strategies
Synthesis of these elements to clearly define your Focus, Showcase, Systemise and Referral strategies from within the PP Matrix.
Monkey Puzzle Training & Consultancy
Karen Meager, Co-Founder of Monkey Puzzle Training & Consultancy, worked systematically through the 1-year Masterplan programme, then had her co-founder do the same. They then retained a Certified Practitioner for a further year. In total, their journey with Watertight Marketing was a three-year phased process of learning, implementing and then embedding the methodology.
In the first twelve months they won contracts with exactly the right kind of clients that doubled their turnover. They credit much of this to taking on board the Watertight mantra of slowing sales down. With the tools and process in place to take major global clients through a deeply considered purchase, rather than jumping for the quick contract, has radically changed who they work with, and the scale of the projects.
Monkey Puzzle was able to achieve the vision for their business in three that they thought would take seven.
Is 'The Right Work' where you need to focus your marketing energy?
Find out if your first Flow Foundation most needs your attention with our 10-minute benchmarking test.
Everything we do with our clients is focused on ensuring that marketing is set up to support more, and more profitable, sales flow into your business. The Watertight Marketing Test breaks down your overall marketing flow score across the Four Flow Foundations, you can to pinpoint precisely where to focus your marketing energy.
First Flow Foundation: The Right Work

77%

77%

Second Flow Foundation: Balanced Routine

57%

57%

Third Flow Foundation: Baseline Rhythm

37%

37%

Fourth Flow Foundation: Maintain Momentum

73%

73%
Get Your Report
Your individual report is emailed to you as a PDF.
Book a Review Call
Talk it through with one of our marketing strategists.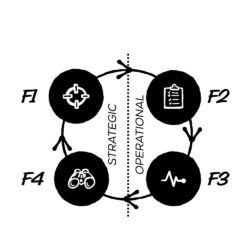 Strategic Thinking Toolkit
For Marketers that Mean Business
Our proven process is organised into the four Flow Foundations, which underpin confident marketing decisions that lead to sustained and sustainable sales growth.

F1: First Flow Foundation
The Right Work
A healthy client mix is made up of those that serve both purpose and profit, ensuring your business is energised and resourced.

Balanced Routine
A balanced marketing routine is one that has an effective tool or technique mapped to every step of a decision journey.

Maintain Momentum
Maintaining enthusiasm is made possible by a compelling business vision that is translated into a clear plan.

Baseline Rhythm
A commitment to marketing that is consistently delivered at intervals and pace matched to your market.
Work With Us
Find and keep more of The Right Work
Train your marketers and senior leaders in world-class thinking tools to enable confident marketing decisions that underpin sustainable business growth.
Work with a Master Practitioner to implement Watertight Thinking as the core organising framework for growth strategy in your business.
Join our supportive community of experts and peers to get the right tasks ticked off in the Make Marketing Happen Club.
Strategic Thinking Tools for Marketers that Mean Business
Small Businesses Matter
Thriving small businesses are the results of countless hours of emotional and financial energy. Often the founders and directors have risked their mortgages, marriages, mental health, and more on the journey. They do this whilst creating meaningful livelihoods for thousands of people. When these people tell us that their marketing isn't quite working, we know it really matters.