Proven. Practical. Powerful.
Get a healthy growth habit embedded in your business, with the proven end-to-end methodology for marketing that means business.
Essentials
Four week course for business leaders and non-marketers to understand the essentials needed to lead and contribute strategically to marketing.
Intensive
12-week end-to-end dive into the methodology, ideal for those hands on in marketing, sales and service, or for those applying this in an employer context.
Mastery
12-month course with detailed applied exercises to fully apply the methodology to your business over a year with coaching support.
On completing the Mastery course, you can add to your own professional toolkit and credentials by becoming a Watertight Marketing Certified Practitioner to use within in-house or consultancy roles.
Who, and what, is Watertight Thinking for?
Watertight Business Thinking is a proven process designed and refined over two decades and across more than 3500 businesses. It gives you a powerful thinking toolkit, and a common language to lock-in the success you've worked hard for and sustain healthy sales growth. We typically work with organisations at around £2-£20m turnover, or aspiration.
Are you a marketing agency?
Nope. We don't do sales or marketing for our clients. We train, equip, empower, and support them to do it themselves. We don't write copy, do design, run campaigns, manage websites, or do telemarketing. We embed a common language, and a core set of benchmarking and decision-making tools and processes in your business so that when you do invest in this stuff, it delivers!
What type of marketing do you cover?
Watertight Marketing is an end-to-end strategic planning toolkit. It is a set of thinking tools and frameworks that equip you to design and run an effective marketing operation. It will allow you to assess and select the right marketing tools and techniques for your business, from the latest digital technologies to the best of traditional techniques.
Are you business-to-business or consumer focused?
 We have successfully covered both, and also employer and charity marketing. If what you offer chosen through a series of reflective steps, then we can help. Regardless of sector. The longer the customer or decision journey, the more we have to offer. If you aim to build long-term relationships then Watertight will be enormously valuable. Conversely, if what you offer is selected on impulse, and is more of a one-off than long term relationship, we'll have less to help you.
What size of organisation do you work with?
The real sweet spot for a Watertight Thinking engagement is a £2-20m turnover business that wants to systemise to scale. Typically, clients have upwards of 20 people in their team. The larger a business is, the more hands-on and tailored our engagements become.
How do you work with clients?
There are three ways to work with us to grow your business:
Courses: We have a comprehensive learning platform that trains people fully in the tools.
Consultancy: We can audit and configure an engagement to assess and step up your marketing.
Club: A supportive members' club for marketers using Watertight.
We also provide certification for marketing professionals wanting to add to their skills and credentials.
How much does it cost to work with you?
Our members' club starts at £87 per month, and a typical transformation programme comes in at around £120k, with options anywhere between those two price points. We also have lots of free resources in the toolkit to get you started and cheer you on in putting the book into powerful effect yourself.
Refined over 10+ Years
We offer a range of courses that can either cover the methodology for Watertight end-to-end customer and employee pathways, or zoom in on a particular topic like budgeting or measurement. These are offered as video-guided online courses, and all include one-to-one live coaching.
"I've designed and refined these courses from research that originated in my award-winning MBA dissertation in 2006. My focus since then has been translating complex concepts into practical business tools, and getting these across in ways that click and stick!"
Some Common Questions about Courses
What do your courses cover?
We train people to understand and use the Watertight Thinking tools to guide their growth strategy and marketing decisions. You can choose to study the methodology end-to-end at one of three depths, or dive into one key tool or area you want to focus on.
Who are your courses for?
The methodology course is available at three depths:
Essentials: suitable for non-marketers or early career marketing professionals.
Intensive: A quick run through at depth to get the big picture, suitable for marketing managers and business leaders with a growth mandate.
Mastery: For senior marketers in or aiming for a directorial or strategic consultancy roles.
Or, you can choose to do one chapter or one tactical deep dive. These are best taken either by marketers or under the leadership of a marketer building a team or collaborating with non-marketing peers. For example, you may wish your finance director to do the budgeting chapter, and your account managers to look at the tactics for driving customer loyalty.
How are your courses delivered?
All of our courses are available via the 
Watertight Webschool. 
This is a learning platform where courses are delivered as carefully sequenced video tutorials, workbooks and topic tests. Each course also has an allocation of coaching calls that you can use to get tailored support as you progress through the materials.
We can add in-house sessions or workshops to this when you have a group of people doing courses with us, and you will be invited to join us at our annual conference and Watertight Weekend in-person sessions as we run them.
Do learners get CPD points or a qualification?
We will issue a letter that confirms the hours of study undertaken and topics covered, which can be used by most professional bodies as evidence of CPD.
If you wish to add to your credentials, you can choose to sit the exam & coursework at the end of your study to achieve Watertight Marketing Certified Professional status. You will need to sit the recap exam each year to maintain your status.
How much do your courses cost?
Our full methodology courses start from £3000, and stand-alone topics are available from £250. Prices are subject to VAT. Packages can be configured for groups of delegates from one organisation.
Whilst you are actively engaged in one of our courses you will have access to the core modules within our powerful software, which is currently in beta. If you wish to continue using these when you complete your course, you will be able to subscribe.
Levels of learning
For leaders and marketers that mean business
To get the best outcome, you'll want your whole leadership team to embrace the approach. Talk to us about a package for a development programme your whole business.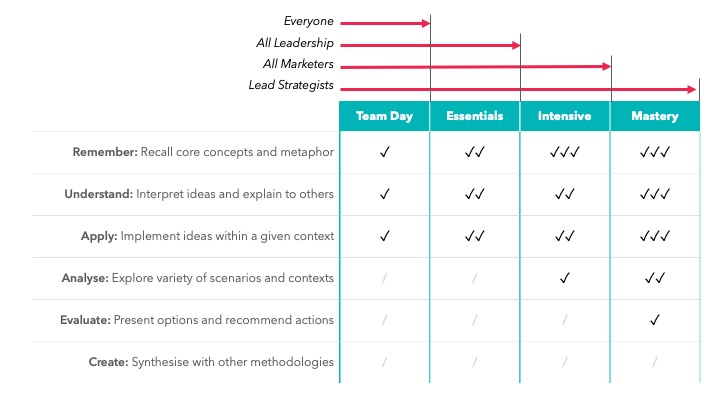 Essentials
For non-marketers
2 x Live Coaching Sessions

4 Weeks of Guided Learning

15 hours in total

2 years access to materials
Intensive
For growth leaders
4 x Live Coaching Sessions

12 Weeks of Guided Learning

24 hours in total

2 years access to materials
Mastery
For growth strategists
12 x Live Coaching Sessions

12 Months of Guided Learning

115 hours in total

2 years access to materials
Give Rachael a call to chat it through...
Rachael Wheatley, Managing Director
Please do book a call in using the button below to discuss how we could support your growth plans.
"I've never felt more able to follow through on a session's learning objectives."
"This is a company wide approach that gets to the root of all aspects of a business. "
"More applicable than anything I've done in the last decade of running a business."