A Common Language
You can build a world-class marketing capability that sits as a tangible system asset in your business.
Create a business-wide approach with deep knowledge, practical skills, proven processes and watertight workflows built using our extensive library of models, frameworks, processes, checklists and templates designed and refined over two decades and across 3500+ organisations.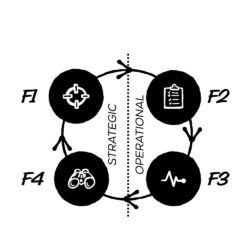 Strategic Thinking Toolkit
For Marketers that Mean Business
Our proven process is organised into the four Flow Foundations, which underpin confident marketing decisions that lead to sustained and sustainable sales growth.

The Right Work
A healthy client mix is made up of those that serve both purpose and profit, ensuring your business is energised and resourced.

Balanced Routine
A balanced marketing routine is one that has an effective tool or technique mapped to every step of a decision journey.

Maintain Momentum
Maintaining enthusiasm is made possible by a compelling business vision that is translated into a clear plan.

Baseline Rhythm
A commitment to marketing that is consistently delivered at intervals and pace matched to your market.
World Class Thinking Tools
The methodology and the book is organised into four key phases each with its own proven thinking toolkit to help you make confident marketing decisions

What Are You Selling to Whom?
The PP Matrix
4 Monetisation Strategies
4 Customer Personas
Yo-Yo Marketing
Touchpoint Leaks™
Your Proposition

Map Your Marketing Baseline
The Logic Sandwich™
The Right to Time
Zig-Zag Journeys
Next Step & Slow Selling
The Right to Time
TDM Value Exchange

Tweak Your Marketing Leaks
50+ frameworks organised by…
Your Bucket: Keeping profitable customers
Your Funnels & Filters: Converting the right people
Your Taps: Finding the right prospects

Maintaining Marketing Momentum
Budget Shape
ABC Budgeting
Volumes & Ratios
Time Horizons & Intervals
CLV & Payback
Marketing Fitness
Vision & Steps
Find out how this all fits together by reading the book…
Bryony Thomas is the author of the Watertight Marketing book, which has been in its best-sellers since its release in 2013. Fully updated and expanded in 2020. 
Help yourself to a sample of the best-selling book here. No email required.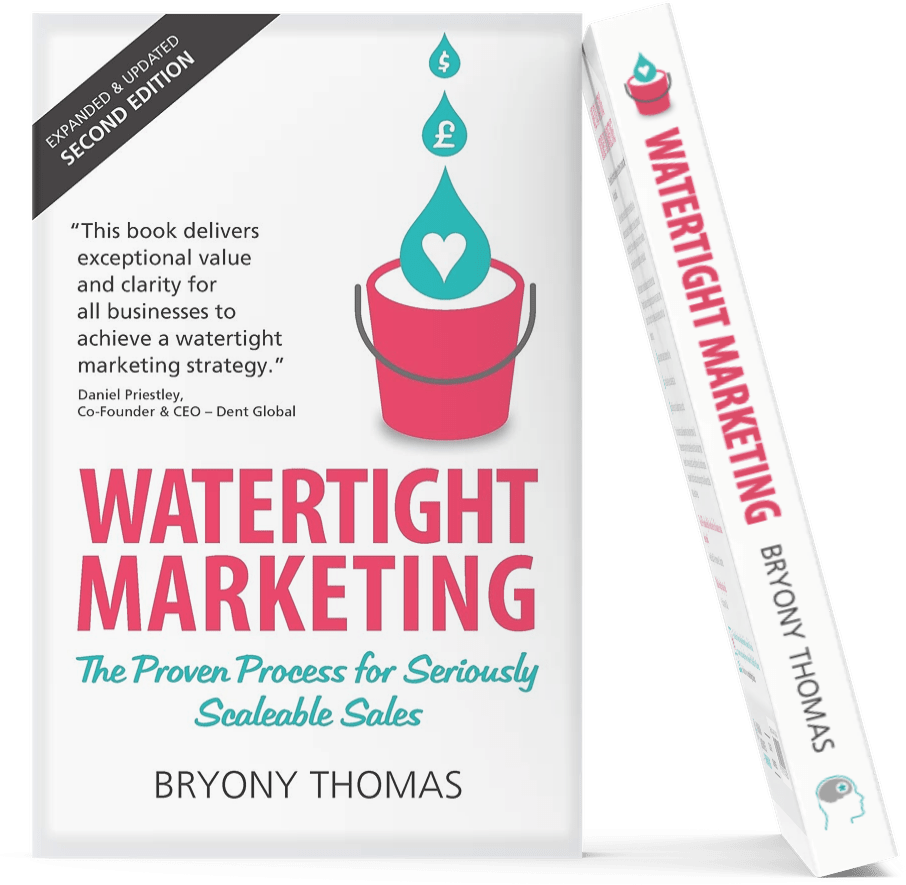 Using Watertight Thinking Tools
There are typically three ways that people use our materials in their businesses:

Equip your people with a proven methodology to underpin healthy business growth. More about courses

Work hands-on with us to audit and transform your organisation-wide marketing capability. More about consultancy

"Watertight is a really good way of having a shared language with business leaders who understand that there is a need for some form of marketing but don't really understand why"
Four Foundations of Marketing Fitness
Supporting Healthy Business Growth
Working with us ensures that you have clear answers to these four critical questions so that your marketing has the foundations to support more and better sales flow.

Flow Foundation 1
The Right Work
To whom are you offering what?

Flow Foundation 2
Balanced Routine
How will you support their decision?

Flow Foundation 3
Baseline Rhythm
When and how often will you show up?

Flow Foundation 4
Maintain Momentum
Why, and with what goals and milestones?
Give Rachael a call to chat it through...
Rachael Wheatley, Managing Director
Please do book a call in using the button below to discuss how we could support your growth plans.
"Watertight gave us a common language to use in the business. It's given the marketing and sales teams a language that they can understand, and they can use when working together."
"I would recommend Watertight Marketing to small and medium sized businesses who want sustainable growth, who are looking to reduce the overwhelm and progress in a way that feels manageable to start achieving those goals. "
 "Watertight is not marketing to me. It's a way of business thinking."