Yesterday, I zoomed  in on the power of visual content in your mix of materials. Today, I want to zoom back out to give you a way of planning a mix of content in different formats to ensure that you grab the attention of people who might be interested, however their brain is wired.
Different people like to consume information in different ways.
My father-in-law buys a slew of broadsheet newspapers everyday. I catch up with the headlines on the radio in the morning and get updates via Twitter throughout the day. It's likely that we'll find some of the same information, but the way we consume it is different.
The same is true in a business setting. Some people will read their monthly trade magazines, others might hop onto a website to watch a video briefing. You need to make sure that your information is presented in the format, or most likely formats, that your buyers tend to use.
You don't need to worry too much about presenting the same information in multiple formats. Some people may encounter the material a number of times. This just increases the frequency, and thereby your chances of being noticed. However, if amongst your chosen formats there isn't at least one that you know your buyer uses, you'll miss the frequency part of the Awareness Equation altogether and your message doesn't stand a chance of being received.
Right content, wrong format = missed opportunity.
In practice, this means that you shouldn't dismiss the more traditional formats, like print. Even with the Internet nearing universal access in most developed countries, and tablet devices making onscreen reading more pleasurable, many people will choose to print the information they want.
This is especially true if it needs their careful attention. Whether in a consumer or business context, they may want to sit in a quiet corner, take it with them on a train, or make some notes on it. For some markets ignoring printed materials is ignoring the needs of some really important people. In business, for example, the more senior the decision maker, the more likely they are to digest printed material. Many PAs will still prepare a pack of reading material each morning for a Chief Executive to read whilst travelling, for example.
Ignoring traditional formats is a common error, but the opposite is also true. With more and more people accessing materials on smartphone or tablet devices, you need to be equally mindful of how your content appears on these. If your audience includes heavy users of these technologies, you will need to look at investing in responsive web design.
So, you need to make 100% sure the obvious ways people interact with your material are catered for. But, don't shy away from being a little more daring too.
Bring your content to life with creative formats.
There seem to be more formats to consider by the day. Digital formats are increasingly important. Video, for example, is growing in popularity. YouTube is now the starting point for as many web journeys as almost any search engine. Alternative formats give you fantastic opportunities to inform and inspire people. Whether it's a video tutorial, a podcast, a smartphone app, a beautiful infographic, or a live web seminar – there's no excuse for presenting your information in dull or soulless ways.
Indeed, thinking creatively can make your message stand out. When I was at University in the late 1990s, the National Union of Students in the UK ran a highly effective sexual health awareness campaign by stickering 10p pieces and distributing them around union clubs and bars. The fact that I can still recall the campaign shows how well this worked. Interesting formats can contribute to the Impact part of the equation.
Planning an effective mix of content formats.
As well as mapping your content to the different stages in a buying decision, you also need to have a mix to appeal to people who simply like their information packaged in a particular way. When considering the range of formats you use, the following table is a really useful planning tool.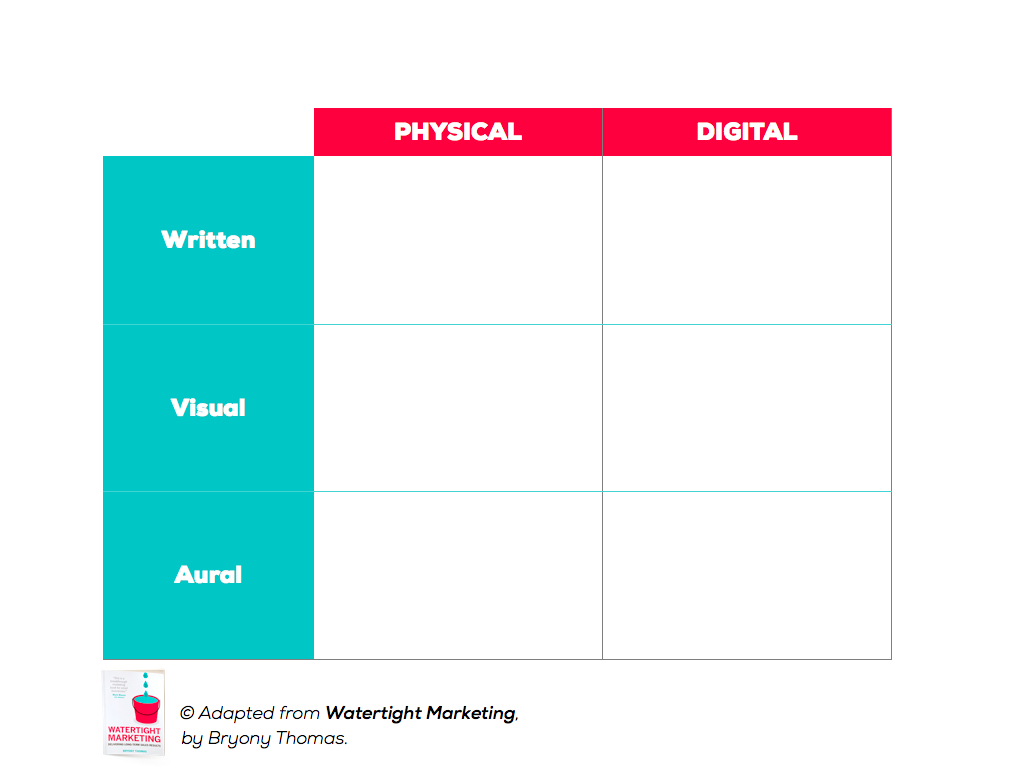 From a practical perspective, this gives you six different types of format. Map into it a range of format options, and you'll cater to most learning styles and personal preferences.
To ensure you have a content range that appeals to different users you may wish to issue a new piece in each format each week over a rolling six-week content marketing programme.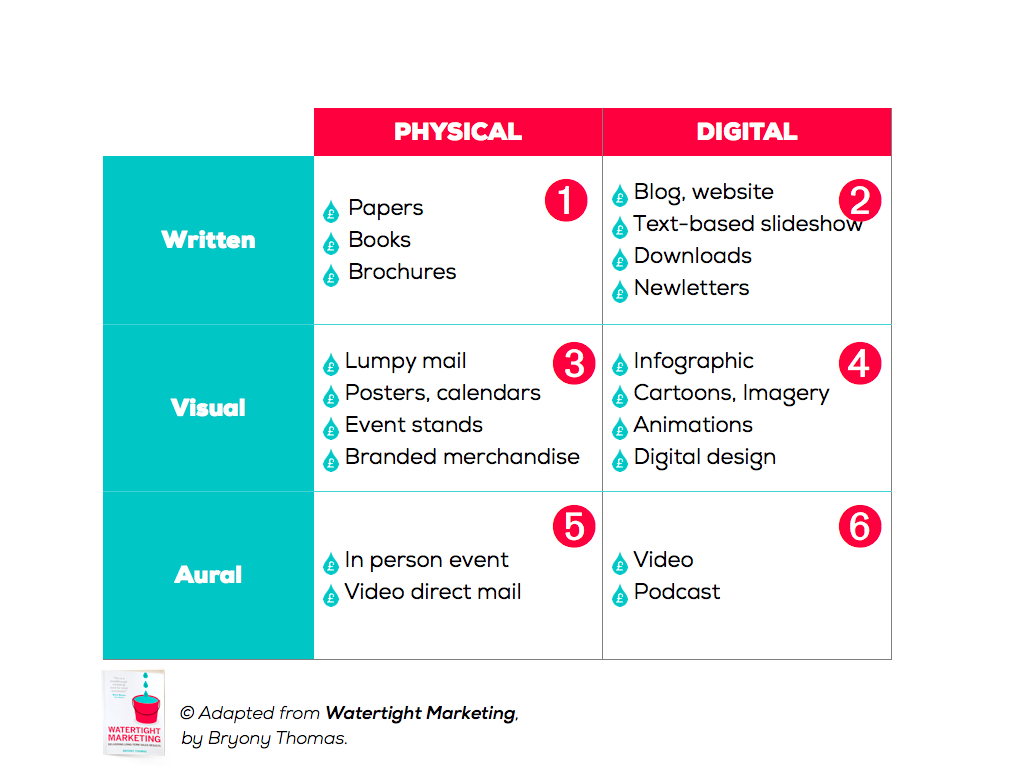 Get this right and you will reach more people. Get this wrong, and however good the content of your content, it will still miss the mark.
© Bryony Thomas – The Watertight Marketer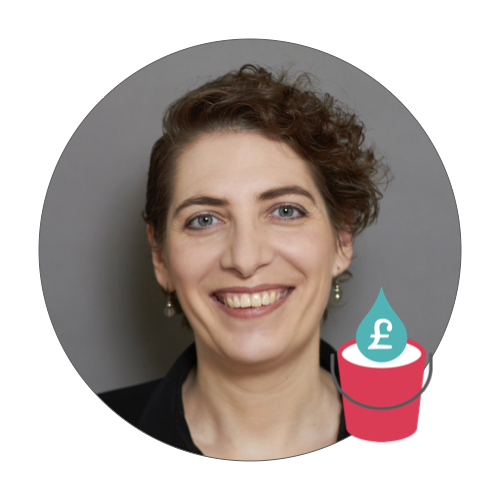 Bryony Thomas
Author & Founder, Watertight Marketing
Bryony Thomas is the creator of the multi-award winning  Watertight Marketing methodology, captured in her best-selling book of the same name. She is one of the UK's foremost marketing thinkers, featured by the likes of Forbes, The Guardian, Business Insider and many more, and in-demand speaker for business conferences, in-house sales days and high-level Board strategy days.