Is your marketing on firm foundations?
Midday (London Time) | 90-Minute Masterclass
Leave this session with a personal score across the Four Flow Foundations that make up an effective marketing operation that supports sustainable and scaleable sales results.
Is your marketing on firm foundations?
It's been a rocky 12 months for everyone. Now is the time to take a focused look at whether your marketing is set-up to truly support your success.
This session equips you to assess your business against the Four Flow Foundations to understand where your marketing is working well, and where needs your focus, by asking these four critical questions:

First Flow Foundation
The Right Work
To whom are you offering what?

Second Flow Foundation
Balanced Routine
How will you support their decision?

Third Flow Foundation
Baseline Rhythm
When and how often will you show up?

Fourth Flow Foundation
Maintain Momentum
Why and with what goals?
Bryony Thomas is the multi-award winning author of the best-selling book, Watertight Marketing. With over 20 years in marketing, for organisations as large as Microsoft and as micro as the kitchen table, she's distilled the key elements of an effective marketing operation into four key questions.
Any business that wants to see sustainable, and scalable, sales results will want someone in the room for this session. Bryony's sessions are full of energy and packed with lightbulb moments for both novice and experienced marketers.
"What Bryony Thomas delivers is so much more than marketing, it's more Watertight execution in business. It was joy to work with her. She brings energy, passion and real know how about how to build and retain business. I can highly recommend Watertight Marketing to anyone wishing to significantly improve the profitability of their business." Ian Price, Former CEO, Academy for Chief Executives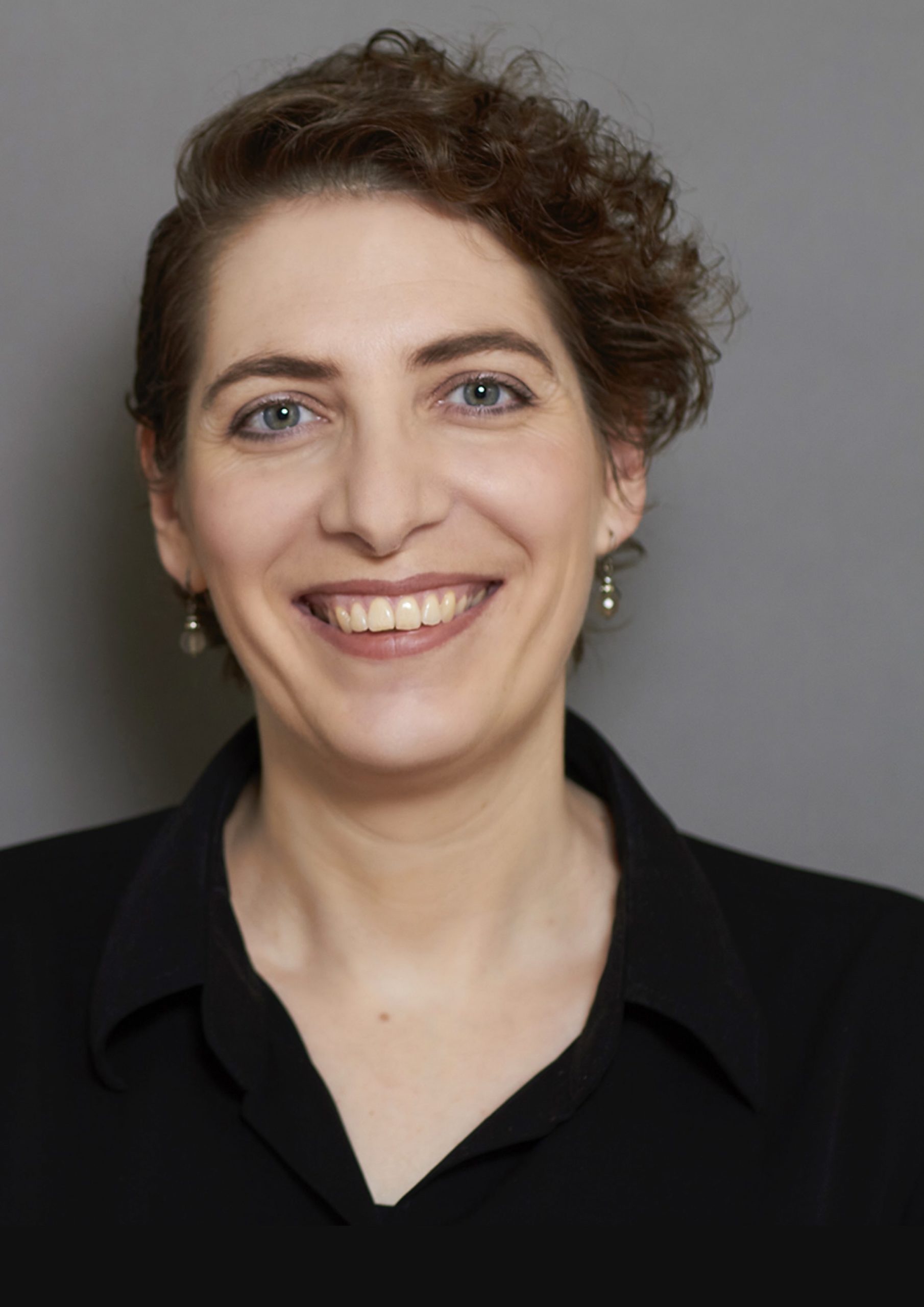 Flow Foundations Assessment
First Flow Foundation: The Right Work

77%

77%

Second Flow Foundation: Balanced Routine

57%

57%

Third Flow Foundation: Baseline Rhythm

37%

37%

Fourth Flow Foundation: Maintain Momentum

73%

73%
You'll be invited to undertake a 10-minute assessment live during the Masterclass. This will reveal where, and why, your marketing may not be delivering the long-term sustainable sales results that you're after. 
You will also receive a PDF copy of your results with a rundown of the key strategic projects to focus on to step things up in the year ahead, and beyond.
Is your marketing delivering the sales results you need?
Do you ever wonder why the time, money and energy you put into marketing doesn't quite deliver you the returns you were hoping for? Maybe you're doing some brilliant stuff, but for some reason it's just not clicking. If you have a sneaky suspicion that your marketing could work harder for you, but you're not 100% sure how exactly, this is the Masterclass you've been waiting for.
Live Masterclass
Join us live for a 90-minute online masterclass with award-winning speaker, Bryony Thomas.
Practical Exercises
Pen and paper exercises to ensure that you apply the key ideas in your own context.
Personal Report
Receive your personal report with your individual scoring as a follow-up to the live session.
Based On The Best-Selling Book
"I've tried to read several books on Marketing and I'm yet to finish one… Until now. Watertight Marketing is written brilliantly with nice illustrations and useful examples. Bryony creates an example company for you to follow and relate to throughout the book and it's suggestions. This book is an absolute asset and has not left my desk since I purchased it last year."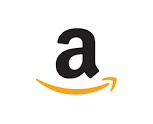 "I recently finished 'holiday' reading 'Watertight Marketing' by Bryony Thomas – as recommended by a colleague. I found the book to be very readable, relatable and practical. It is also very process focussed and it flipped the whole concept – as I had previously understood it, on its head. As recommended by Bryony, I'm now reading the book for a second time, this time applying it to my own situation. I feel confident that positive results/outcomes will follow – and that's from someone who has previously loathed marketing. Strong recommendation from me."
Jim "Absolutely brilliant! I love this book. I've learned SO much, but at the same time, it's such a good and pleasurable read."
Hil Gibb "Bryony Thomas knows her stuff!! She has a great writing style and puts a lot of effort into demystifying myths about marketing that sometimes exist. Thoroughly recommend it to anyone who wants to get better at marketing their business!"
Amazon Customer
★ ★ ★ ★ ★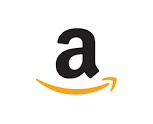 "In this book Bryony demystifies marketing. Her written style is conversational but articulate. The Chapters are divided into short sections each containing pearls of information. The use of real business examples and worked scenarios are invaluable and enable readers to apply the learning outcomes to their own Companies and ultimately develop a successful marketing strategy.
In my opinion this book is not only a great learning tool but also one to be visited again and again as an essential point of reference . Quite possibly the only marketing book that a busy business person needs."
Elaine Hollerhead "Practical, actionable and a proven method. What more could you want from a Marketing book?"
Chris Turner "Applying Watertight Marketing is like having Marie Kondo organise the marketing clutter in your mind and business."
Cara Sherliker
Adeva Partners Great marketing guidance for businesses.
Tim Rylatt Watertight Marketing is a really great book for anyone wanting to sharpen their skills and understand the mechanics of how a customer buying journey begins, flows and ends.
As a business coach, it is one of my go-to recommendations for clients who need to boost their understanding of this interesting subject.
Bryony has written the book in a straightforward, easy to follow way and it is a proper page-turner once you get stuck in!
Tim Rylatt "Bryony's theory has revolutionised my thinking after 20 years in marketing."
Alison Dowsett
Blacktrace Holdings Ltd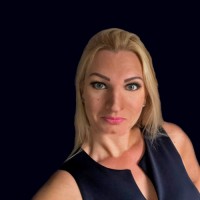 "Finding Watertight Marketing was a revelation and a relief." "Great way to integrate marketing with sales"
Sarah H. "This book delivers exceptional value and clarity for all businesses to achieve a watertight marketing strategy."
Daniel Priestley
Dent Global "Without doubt this is the best book on small business marketing I have read. A no-nonsense, honest to goodness, blueprint that any small business can implement and improve their bottom line. It cuts through the jargon and delivers something that can be used in the real world."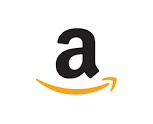 "The Best Marketing Book Out There. This book contains all the information you need in one place, and it does so in a way that is easy to understand and straight to the point with no jargon."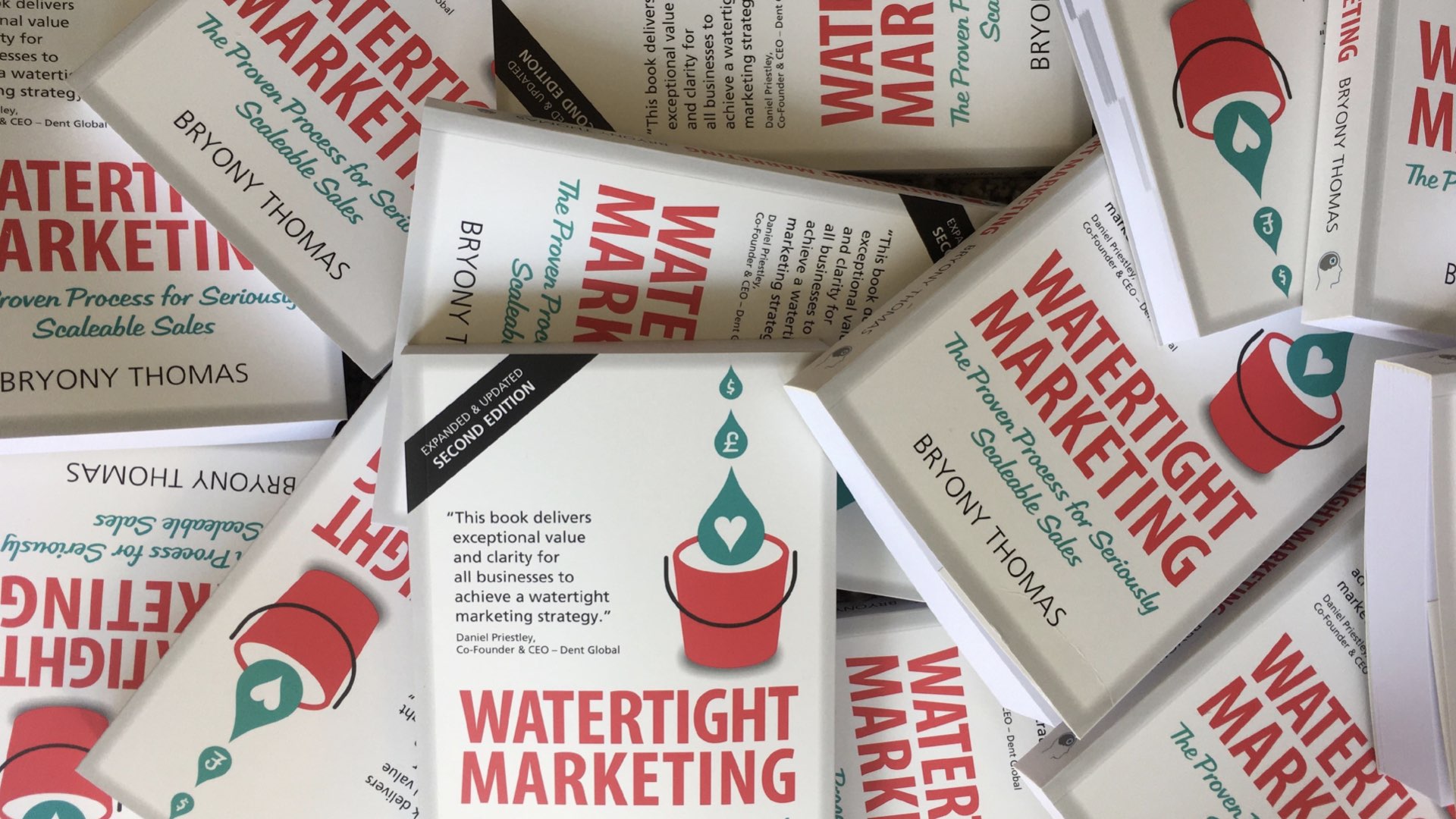 Register Now
Midday (London Time) | 90 Minutes
Register to join us live, or to receive access to the replay after the event.