I'm often found telling businesses that they'll never find a marketing silver bullet, or a magic formula to sales success. But, there's one exception, and that's The Awareness Equation. Applying it to your marketing is extremely powerful. It is the secret to getting your business noticed.
Mark Mason, then Managing Director of advertising agency, Mason Zimbler, drummed this into me as a naive 22 year-old… and I come back to it almost daily. It's something you've understood since you were a small child. But, let's remind you.
FREQUENCY x IMPACT = AWARENESS
If I told you something that fundamentally changed your world. Something that took the breath from your lungs and made your heart beat out of your chest – I'm willing to bet that I would only need to tell you once. However, when you were learning your times tables at school, repetition was key. This is our equation at work. The first example is high impact coupled with low frequency. The latter is low impact with high frequency.
High impact, in a marketing setting, is about getting an emotional response. This is often achieved with an investment in stunning creative work. An example that comes to mind is the Sony Bravia ad with bouncing coloured balls rolling down a San Francisco street to the haunting sounds of José González. Fear and humour are also examples of this. By triggering an emotional response, lower frequency is sufficient to get noticed.
Low impact with high frequency is often (but not always) used in commodity markets. I can't imagine anyone in the UK not knowing the 'Go Compare' jingle. And, that's not because it's a truly earth-shattering piece of music – it's because it has been played in nearly every commercial break on every TV channel for about the last two years. I like to call this attrition marketing; it wears you down.
You need to master this equation if you're going to be remembered. Most businesses don't have the cash for the sort of creative concepts that stop you in your tracks; or the buying power to bag every ad slot going. So, you'll almost certainly need to go for medium impact and medium frequency.
The point is that you need both.
© Bryony Thomas – The Watertight Marketer | Cartoons by Simon Ellinas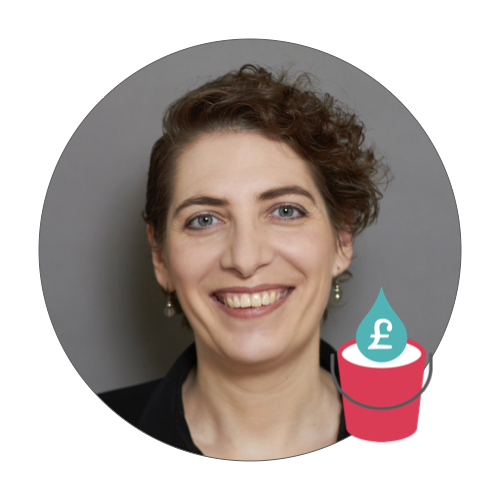 Bryony Thomas
Author & Founder, Watertight Marketing
Bryony Thomas is the creator of the multi-award winning  Watertight Marketing methodology, captured in her best-selling book of the same name. She is one of the UK's foremost marketing thinkers, featured by the likes of Forbes, The Guardian, Business Insider and many more, and in-demand speaker for business conferences, in-house sales days and high-level Board strategy days.