Getting from general awareness to a new paying customer is a stepped journey in most business settings. Indeed, for many it's a delicate dance akin to an intricate Quickstep. One of the most important stepping stones is the one that sees a person handing over their hard-earned cash.
The key profit leak I often see at this stage in the process is Leak #4 on The Thirteen Touchpoint Leaks – No Gateway. For this, having a gateway product as the first rung of a product ladder, is an extremely powerful tool.
What is a product ladder?
Assuming you have a set of tools and techniques that draw people in and support their buying decision, you will soon get to that crucial moment of asking for their money. The rationale of a product ladder is to make that step as easy as possible by creating a complementary set of products or services that lead from an initial, lower value or risk, purchase through to a premium one. Let's give a few examples…
Online systems: Most online tools these days use a 'Freemium' model, where there's a free version of their tool with limited functionality, then a stepped suite of versions where you add more functionality as you go up in price.
Knowledge business: In a consultancy business it can be extremely powerful to offer some sort of initial consulting exercise, that then leads to some sort of improvement programme, that may then lead to ongoing retained support.
Product business: Where you're actually shifting goods, you can put together bundled packages where people might start with one or two items, but increase to add further complementary products, upgrades or add-ons over time (matching items, etc.).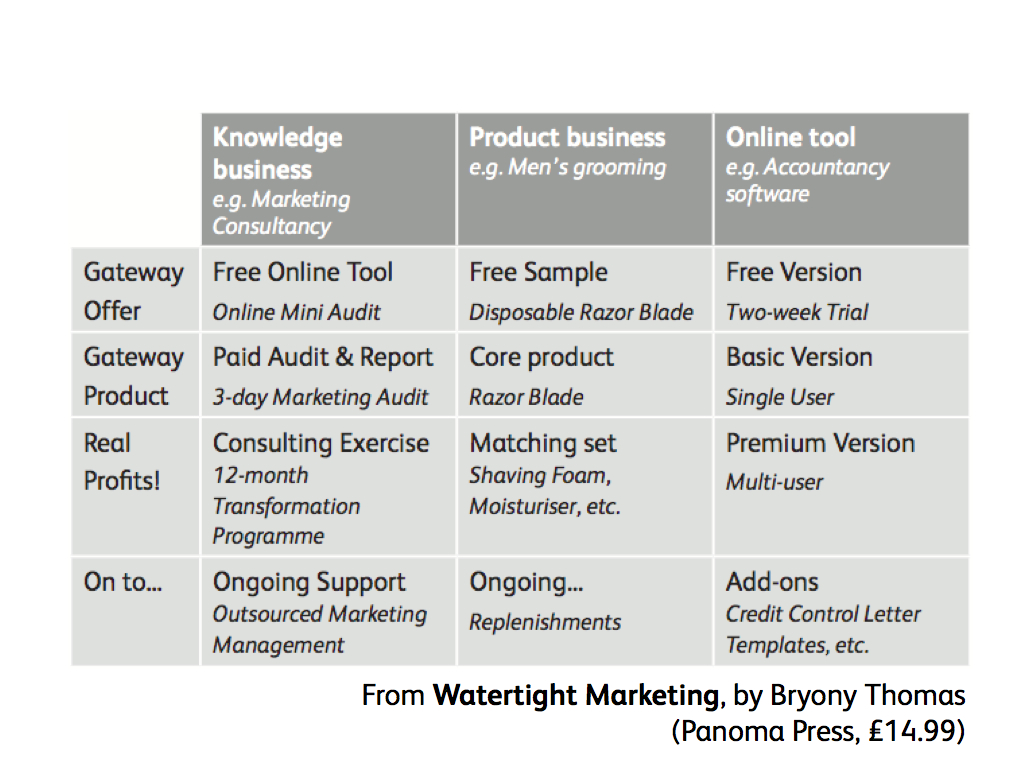 The key here is to make that first step pretty gentle and risk free. It gives the customer a chance to really check out what your business is like before committing to a vast spend or ongoing engagement. It then gives you the opportunity to really show what you're made of. The reasoning goes that this can then translate into a higher eventual spend and greater ongoing commitment than they would have made if the gateway option hadn't been available.
What makes a good gateway product?
So, if you get the idea and think it might work for your small business, here are our three key areas of consideration for you to mull…
Content of a gateway product
A really effective gateway product is self-contained and useful in its own right. If you are asking someone to part with their cash, you need to give them something of value in return. A particularly powerful technique can be to design some sort of audit (review, health check, calculator… call it what you like). This would typically involve a survey and / or some consultancy time to conduct a standard review that outputs a useful report on a given set of criteria.
Pricing a gateway product
The key consideration here is often how much your buyer can authorise without having to involve other people. It's worth doing some research about the level of spend the buyer you're targetting is able to sign off on their own. This can be a perfect price point, as it means that they can buy and try your services, and then go to their Board, wife, or other joint decision-maker with a suggestion to step up to the next level. The point here is that it needs to be small enough to seem like a minimal risk, but high enough that they'll value the output.
Level of commitment from the customer
I firmly believe that there should be no structural lock-in or hefty commitment on the part of the customer when it comes to a really effective gateway product. The whole point of a gateway product is to make the buying decision easy. If you put in a load of caveats and tie-ins, you're adding complication… which means added thinking time and reasons to say no. Make it a simple purchase with no further obligation. It's then the job of your sales and marketing (and of course the quality of your product and customer service) to turn this into a loyal customer.
How to use a gateway product in your sales and marketing
Having a clear gateway product is a gift to any decent sales person. It gives them something tangible to talk about, without a hefty price tag or commitment. It's the perfect end point around which to structure a stepped telemarketing programme for example.
You can make your gateway product even more powerful by taking a leaf from those tech companies' books and developing a free version – which then becomes your key call-to-action across all your sales and marketing. And, gives your sales team a steady stream of warm leads to call and up-sell to the paid version. One of the best ways to do this is to turn your audit into a mini online version, that outputs an instant snap-shot report of some kind. Again, this should be useful in its own right, but clearly sign-post the next step. Hubspot's 'Website Grader' is an excellent example of this.
So, time to ask yourself… how easy is it for your potential buyers to say yes to paying you something? Could you make this easier with a gateway product of some kind?
© Bryony Thomas – The Watertight Marketer | Cartoon by Simon Ellinas.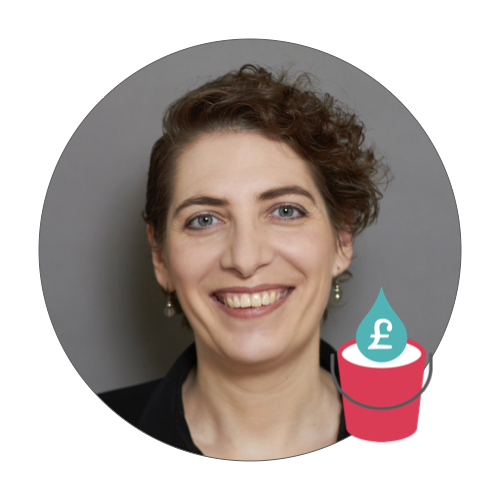 Bryony Thomas
Author & Founder, Watertight Marketing
Bryony Thomas is the creator of the multi-award winning  Watertight Marketing methodology, captured in her best-selling book of the same name. She is one of the UK's foremost marketing thinkers, featured by the likes of Forbes, The Guardian, Business Insider and many more, and in-demand speaker for business conferences, in-house sales days and high-level Board strategy days.