New suite of products launched to help businesses get their marketing watertight for 2014 (and starting at just £15!)
31.01.14, Bristol – There aren't many marketing experts whose credentials include helping hundreds of businesses, from FTSE 100 companies through to individual entrepreneurs, to get their marketing in shape. That's because there aren't many marketing experts like Bryony Thomas! With ambitions to help more businesses than ever before this year, Bryony has officially unveiled her exciting new range of Watertight Marketing support packages that are set to transform the fortunes of small and large businesses alike.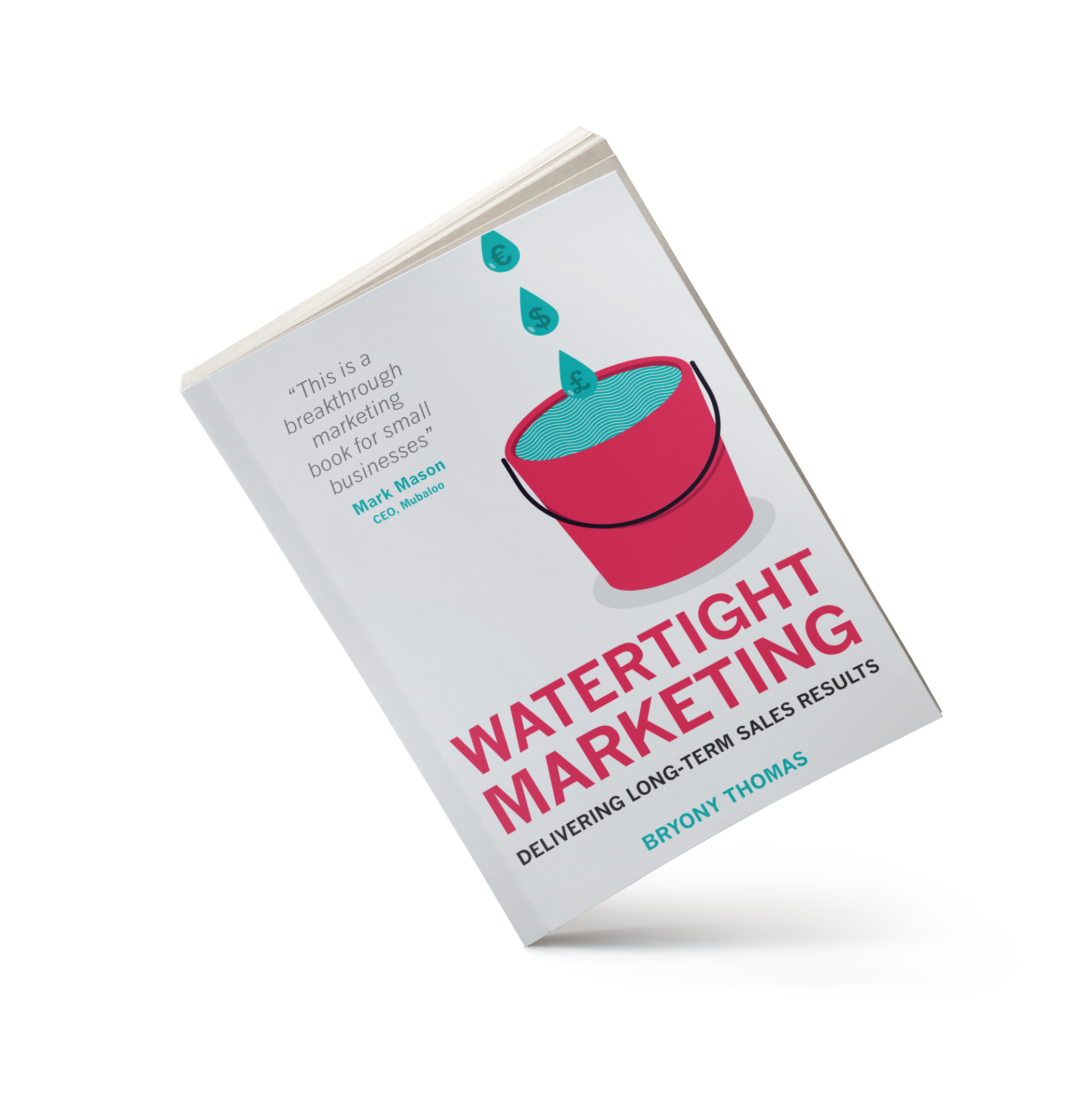 Building on the success of her 5-star business book Watertight Marketing (£14.99, Panoma Press), which has been described as 'the book that makes all other marketing books make sense', Bryony has designed a range of powerful marketing information products which provide step-by-step guidance for those wanting to make their marketing deliver long-term sales results.
The Watertight Marketing suite, which was soft-launched in Beta-phase late last year, provides five levels of access to varying degrees of Bryony's signature content, marketing frameworks and training. From a micro-businesses that needs to identify their profit leaks, to a CEO that needs to redefine the marketing processes within their organisation, the new range of Watertight Marketing products provide a clear and structured programme to follow.
The range of Watertight Marketing products includes:
Watertight Marketing & Workbook – £14.99
The Watertight Marketing Workbook forms part of a powerful and comprehensive set of companion materials that mean readers can immediately put the ideas from the book into action for their business. The Workbook is completely free with every purchase of the Watertight Marketing book.
Watertight Marketing Whiteboard £200 + VAT, or just £20 + VAT per month
This includes over 50 hours of content, with a video session for every one of the 85 exercises detailed in the Watertight Marketing book. These range from 5 minutes to 45 minutes. These are presented as a recorded screen-cast as Bryony draws and jot down notes and chats through, just like in real one to one session. It works well for self-motivated people who respond to more active learning techniques.
The Watertight Webschool – £500 +VAT
The Watertight Webschool kicks off with a structured 12-part eLeanring programme to audit and plan your end-to-end marketing operation. This plan is then reviewed in a one-to-one Skype session with Bryony, and you're able to join a weekly online Q&A and access the complete video library for a whole year as you put the plan into action.
Marketing Masterplan – £2,250 + VAT
The Marketing Masterplan package starts with an intensive one-day planning session with other business owners who all leave with a 12-month marketing roadmap for their business. There are then 12 weeks of online support to refine this further, 4 Sort-it! Skype sessions give them one-to-one time with Bryony to make sure their plan is working, and a year's online support whilst the plan is implemented. These 12-month programmes run four times per year, with first one schedule for kick-off on 26th February.
Watertight Workgroup – £18,000 + VAT, or just £1,500 +VAT  per month
This is exclusively for MDs and CEOs of businesses with more £2m turnover, and more than 10 people. It gives them the space to master the marketing fundamentals. This package includes two-day residential. This is time blocked out for thinking clearly about making their marketing pay. The 6 Sort-it! Skype sessions with Bryony are perfect for a catch up every other month to keep on track. In addition, the MD and 2 further colleagues have access to a powerful range of events and online resources to support a marketing transformation in their business over 12 months.
Mark Hutchinson, managing director of Anaeko Interactive Limited, took part in the beta phase of the Marketing Workshop last year. Speaking of his experience so far, he said:
"Although I've been in sales for 23 years, my understanding of marketing was pretty vague. Before Watertight Marketing, all I saw was a long list of potential marketing strategies, methods and tactics and I didn't really understand how everything linked/worked together. The book and workbooks are so much more practical than I expected. I'd go so far as to say it's the best business book I've ever read. Joining the Watertight Workgroup has given me a clear understanding of how everything works together, and an easy to understand framework for working through everything. What was particularly valuable, was that I left the weekend session with a priority order in which to tackle everything, which is completely the reverse of how I would have approached it. And, the year's mentoring is spot-on for keeping you focussed on actually getting this stuff done.
I'd recommend a Watertight Marketing programme to any entrepreneur who's serious about setting their business apart."
Commenting on the launch of the Watertight Marketing support packages, Bryony said:
"In my experience, no matter what size business you have, or how successful it may already be, I've yet to encounter one that couldn't step things up a notch by simply plugging the profit leaks. Getting Watertight Marketing in place means that you can step off the exhausting roller coaster of being up one minute and down the next and never quite reaching those sustainable, predictable and growing sales results that are needed to become a bigger, better and stronger business. The packages I've put together work as a step-by-step guide to doing exactly that."
~ ENDS ~
(Pricing accurate on date of release)