20.05.14, St Albans, UK – The highly acclaimed 5-star business book Watertight Marketing is continuing to gain industry acclaim 18 months after it was first released as it scoops an award for best Marketing and Public Relations book at the National Indie Excellence Book Awards.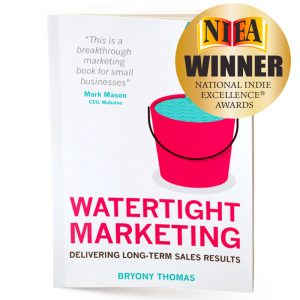 The National Indie Excellence Awards exists to help establish self-publishing as a strong proud and facet of the publishing industry. Recognising authors that put their heart and soul into their work, the NIEA is proud to be a champion of self-publishers and small and independent presses that go the extra mile to produce books of excellence in every aspect.
Watertight Marketing (£14.99, Panoma Press) has been nominated for numerous awards, was featured as CIM Book of Month in 2013 and has received over 50 five star reviews on Amazon. Described as the book of 'no nonsense wisdom', it helps business owners to cut through the marketing jargon and understand the fundamentals of making their business profitable and sustainable.
Rob Cameron, is a recent 'Watertight Marketing' convert and said in his review:
"I have read a lot of marketing books from academic heavyweights (as part of MBA) to small business quick guides and have to say that I have found Watertight Marketing to be the most practical marketing book and model is most representative I have seen to demonstrate the 'marketing process'."
Bryony's understanding and demystifying of the marketing process comes from an impressive career, working with all types of businesses, from one-man bands through to FTSE 100 companies. Having risen through the ranks to Divisional Marketing Director by the age of 28, Bryony quit the corporate ladder in 2008 and set up her own consultancy business and has since established her reputation as a compelling business speaker and writer.
Speaking about the award, Bryony commented: "I am thrilled that Watertight Marketing has won the Indie Excellence Award for the marketing and public relations category. Small businesses are the backbone of our economy and we need to do all we can to help support them and enable them to survive and thrive. To have so much positive feedback from people who have read the book just proves that there was, and continues to be a real need for this book. It also gives me a great sense of satisfaction and I am truly thankful to the 87 backers who helped fund the publication of the book via my PleaseFundUs (now Zequs) campaign back in 2012."
Watertight Marketing was published by co-operative publisher Panoma Press, which specialises in business and personal development books. The company's MD, Mindy Gibbins-Klein commented:
"It is wonderful to see Watertight Marketing continue to go from strength to strength! We are delighted that Bryony has won this latest accolade. Awards like the Indie Excellence Awards are an incredibly powerful vehicle for raising the profile of the excellent co-operatively published and self-published books out there, such as Watertight Marketing. I'm looking forward to seeing what's next for Bryony and this fantastic book!"
~ ENDS ~