George Spence took a Practitioner Guided approach to working through the Chapter Companion Courses on the Watertight Webschool, and then retained the services of a Certified Practitioner to maintain the momentum.
Client: George Spence, MD, Redspot Self Storage
When every penny you spend on marketing is your own money, you need to feel an inner faith. I could see the sense in Watertight Marketing. Fortunately I recognised what good advice sounds like, and it worked – I've doubled my customer base." George Spence.
Background
This marketing case study features Redspot Self Storage, based in Bristol, with additional sites in West Berkshire and Newbury. Founded in 2010 by George Spence, Redspot offers short and long-term storage with 24/7 access and a variety of easy drive-up options using storage containers. The service is ideal for home, personal, business or student self storage.
George's previous businesses had been in the property sector and, while he felt he had a strong business model for Redspot, his marketing experience was limited and he hadn't reckoned on the complexities of reaching and attracting the general public.
As George explains, it was an uncertain beginning. "I started the business in June and didn't get my first customer until October. I soon realised that there was more to this than 'build it and they will come'. I tried all the things you'd expect but with no real strategy and no way of measuring how effective they were. Did I waste money? – almost certainly. Three months in it was worrying and then my first winter set in. I look back on it as my great winter of discontent."
How Watertight Marketing helped
Feeling very disillusioned, George felt in need of marketing help – and signed up to a 100 marketing tips email campaign being run by Watertight Marketing author, Bryony Thomas. As he recalls, the pressure to focus on the business prevented him from reading them all at first – but he's glad he kept them.
"I read the first 3 but knew the other 97 tips would be good, it was just a case of finding the time! Then one day I decided to give Bryony a call – not long after her book came out." Having bought a copy, George immediately recognised himself on almost the first page. "Bryony talks about yo-yo marketing – that exhausting roller coaster of being up one minute and down the next: selling then delivering – but never quite reaching the sales that a small business needs."
Having read the rest of Watertight Marketing in two days, George come to a decision. It was an acknowledgement that marketing is a long-term game.
I knew I could convert customers but I needed help in attracting them. By this time I'd had two years of pain so I was ready to commit to a strategy – and it was reassuring when I did. Finally I could sleep at night."
George, and Redspot, became one of the first participants to complete end-to-end Chapter Companion courses in 2013.
See related post:
So what happened when the programme got underway, how did it help the business and what changes did he make? One of the first exercises was to explore the Thirteen Touchpoint Leaks and how they related to Redspot. This is a unique review process that helps businesses identify where they are leaking profit and then suggests a prioritised action plan for fixing them.
The process highlighted several red traffic lights, in particular:
Leak 3 – No emotional connection,
Leak 6 – No proof, and,
Leak 13 – No emotional impact.
See related posts:
Being a big advocate of customer service, George was very confident that he could convert enquiries into customers – when the enquiries happened. The big problem was they weren't happening in the volume he needed. The issue lay in his website – a classic example that was full of the facts and figures but lacking in any sense of empathy with the customer. He knew his service was helpful and friendly – but the message wasn't being told in a way that showed what it felt like to be a Redspot customer.
It was missing the emotional connection. Realising this, George wanted to get away from the often uninspiring price-led marketing of his competitors and tell what he calls 'the human face of storage' with his new website.
Working with Watertight Marketing Certified Practitioner, Cheryl Crichton, they began to re-position the Redspot brand so that it identified with the real issues going on in the lives of customers that led to their need for storage.
As George explains, "On the face of it, self storage may not seem like the most interesting thing to write about – but people's lives are. There is always story behind someone needing storage. Looking at our website now, it's these customer stories that really make an impact."
By telling the stories behind their customers, the re-positioning of the Redspot brand also ticked another marketing essential – real proof.
While an emotional message will attract attention, the logical brain still needs to be satisfied and, the more expensive or important the service, the more likely the customer will seek validation and reassurance. The original website had plenty of facts but lacked the proof needed to build trust in the eyes of the potential customer. The new website features real customers whose stories show how Redspot met their individual needs, making case studies that people can relate to.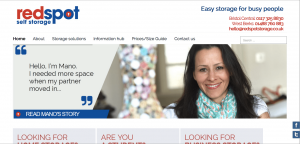 The new website also provided proof of something often missing in the self storage world – transparency of pricing. As George explains "we wanted to be completely upfront about costs, we created a downloadable price guide, hints and tips and how-to guides so customers could feel reassured that what you see is what you get."
A satisfying bite of The Logic Sandwich
As he embraced the Watertight Marketing methodology there was one particular model that helped George shape his messages – the Logic Sandwich. That is, marketing messages that start with emotion, lead onto logic and then return to emotion to seal the deal. The concept helped George put the emphasis in the right place and it still influences how Redspot communicates – in fact, he wouldn't be without it.
I keep a copy of the Logic Sandwich stuck by my computer, it's a great thing to look at and within 5 minutes there's usually a tweet or an article that comes to mind."
See related post:
The breakthrough
Two years after working through the Thirteen Touchpoint Leaks and with the support of Cheryl Crichton, Redspot has doubled their number of clients.
As George explains, "The new website was launched in July 2014 and before that we went through the whole Touchpoint Leak process and created a basic plan that covers everything. It's still evolving but we've got the model in place to identify with and reach a much wider audience."
If the increase in business wasn't enough to suggest the new strategy was working, he's also noticed a change in the marketing of some of his previously cynical competitors. As George explains "I was told by people in this business that what I was doing just wouldn't work. They reckoned people just wanted the facts but I'm beginning to notice their marketing changing to more emotion led messages."
The future for Redspot
Setting up Redspot has been a huge learning curve, which caused George a lot of soul searching. Fortunately he is a business owner who decided to take action and it's certainly repaid his willingness to take what was initially a marketing leap of faith. Looking back at the early days he recalls "I said to myself I can either sit here doing nothing, or I can try something."
Now that he has a Watertight Marketing plan in place, George has more time to focus on the Redspot business. Now with three locations, he feels that the model is scalable but it's been the improvement in marketing and Cheryl's support that has given him the confidence to feel that way. "As any business grows you can't possibly be a jack of all trades, you have to let go. Having Cheryl who lives and breathes marketing expertise means that things will get done. As we approach 2016 I'm no longer facing a winter of discontent – far from it!" 
Cheryl comments, "George is one of those people that makes doing my job an absolute pleasure. I work with him, not for him. He's courageous and sensible with decision-making, but listens to advice and sticks to the plan. He knows there's no magic marketing wand and is prepared to test, measure and tweak – so often the case with marketing. He's realistic yet optimistic about expectations, and generous with his time and input. Helping George get Watertight is a partnership that has worked well. We have systematically and creatively moved all his red leaks to amber, and the ambers to green using the Watertight Marketing framework. Now the only way is to keep going up."
© Watertight Marketing Ltd
---
In 2018, Redspot was forced by the landowners to close its highly successful Bristol site. George has taken what he learned with Watertight Marketing to prepare offers on new sites and we are looking forward to sharing news from him in 2019.
---
This marketing case study was prepared by Watertight Marketing Certified Practitioner – Ben Wheeler.