Monkey Puzzle Training & Consultancy took a Practitioner Guided approach to working through the Chapter Companion Courses on the Watertight Webschool. They found it so useful that they went through it all twice with two different experts.
Client: Karen Meager, Monkey Puzzle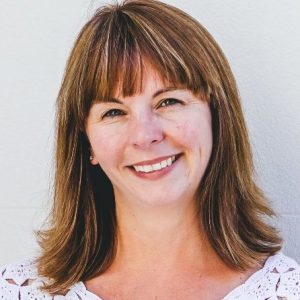 "I bought a copy of Watertight Marketing at an airport bookshop. By the time I landed I'd made pages of notes of things we could do differently. What's more, I strongly identified with the book's ethical approach to marketing." Karen Meager, Lead Consultant & Managing Director, Monkey Puzzle Training
Background
Monkey Puzzle is a leading provider of People Consultancy, Leadership Development and NLP Training. Karen set up Monkey Puzzle with fellow NLP Master Trainer John McLachlan to support leaders, entrepreneurs, speakers and business people to develop their skills and talents in a way that fits with their own style and personality.
Having been a marketing director in a previous role, Karen wanted to develop a strategy for Monkey Puzzle but found that marketing books left her somewhat underwhelmed. "What I found really disappointing was that a lot of it felt like how to trick people into buying your stuff and I thought 'I'm really tired of this, it's not the kind of thing I want'."
Spotting Watertight Marketing at the airport was the start of a relationship that would lead to a renewed faith in marketing – and a doubling of turnover.
How Watertight Marketing helped
Karen and John faced a challenge shared by many business owners who transition from corporate life. Marketing can turn out to be more complex when it's your own business.
Karen describes what happened at the outset. "Marketing to a formula that's already prescribed is very different to doing your own marketing as a business owner. So, we really struggled with it and wasted a lot of money in the early years, trying to work our way through it."
Having put some of the book's ideas into action, Karen's next step was to attend a Watertight Marketing 'Lunch and Learn' for business owners in Bristol. This led to Monkey Puzzle starting the 12-month Masterplan programme, (now packaged as Chapter Companion Courses on Watertight Webschool).
Looking back, it has been time well spent, as Karen explains "Working through the Watertight Marketing process has enabled us to more than meet our commercial target but do it in an ethical way that has integrity and sets new standards in our industry. That makes us so much more comfortable about the whole approach."
Making calm, confident, decisions
With these objectives in mind, it was necessary to discover which were the right actions to take – and feel confident that they would fit their own values. Karen described what appealed about the Watertight Marketing approach.
"One of things Bryony says is that she wants to help us make calm, confident decisions about where we put our marketing resources. This was the thing I really wanted. I didn't matter if it was long term, I just wanted to go and make a decision about something that I was pretty sure was going to work, and be right for our clients."
Slowing things down, before stepping them up
Although Monkey Puzzle quickly realised what they needed to do, and found an order for doing it, Karen particularly identified with the Watertight Marketing approach of slowing the sales process down – in order to match clients' timeframes.
Karen explains how this changed her approach. "One of the Webschool exercises was about thinking through what your clients time horizons were. The old way was giving them everything at the outset and then always be following up which becomes frustrating for everyone. So we just started to break down how we communicated with them."
Identifying Monkey Puzzle's marketing leaks
As part of the Companion Course to Chapter 2, participants review their marketing against the Thirteen Touchpoint Leaks™. This is a bottom-up analysis that identifies how businesses lose both customers and profit from their marketing activities – and creates a traffic light action plan of priorities.
Related content: What are the Thirteen Touchpoint Leaks™
Appreciating their customer's purchasing timeframes played an important part in successfully addressing the top two leaks identified.
Leak #4 – No Gateway
Leak #4 addresses how easy it is for customers to buy from you – and the more you can do to give them a flavour of what it would be like as a customer, the better. A 'Gateway Product' is often developed to create a stepped path to purchase.
Related content: How to incorporate a gateway product to win more business.
By its nature and cost, a training solution is clearly a very considered purchase – and these are seldom quick decisions. Karen's challenge was how to give potential customers a sense of what it would be like to work with Monkey Puzzle – and therefore progress towards a purchase.
Karen explains what they did. "We created some short guides on key issues that professionals find quite difficult. These were seen as particularly helpful. We've also written two books which have been pretty successful so we started sending copies of these too, then giving them a call to see what they thought of it. So, it would start to slow it down and build a relationship, it wasn't about them immediately booking some training."
And, similar to Watertight Marketing's own 'Lunch and Learn' events, Monkey Puzzle devised other ways to build a gateway to that first sale. "As a direct result of working with Watertight Marketing, we also started offered something small as a trial, we might do a lunch for them for example. None of these were expensive to do, but they did get us closer to our clients – and on their terms."
Find out more about Karen's books here.
Leak #7 – Information Overload
The stepped communication approach also helped address the next leak in their marketing process, information overload.
Leak #7 addresses the quantity and timing of information sent to a prospective customer. In the early stages of a buying decision, most people will be considering more than one option. Or, they may be just curious. If you wade in at this point with heavy sales information, you'll almost always put people off.
Monkey Puzzle realised they were doing what many businesses do. Not only were they giving away all their best materials too quickly, it may have come across as 'information overload' and risk not being read.
Karen's new approach to Monkey Puzzle's sales information is now based entirely on what's relevant for where the customer is in the buying process, as Karen explains… "We've re-organised our information process and trained our consultants around the 6 stages of the customer journey (from Awareness to Loyalty) and made sure we have content in place that addresses that. We can now work out at which stage of the customer journey someone is and we can give them something we are much more confident is relevant."
The breakthrough
After 12 months of the Masterplan programme, Monkey Puzzle have won contracts that have doubled their turnover. Karen attributes this to what she has learnt from the Watertight Marketing book and Webschool courses. And, while the book was clearly energising and thought provoking (even on a holiday flight!) there were two catalysts she attributes to this breakthrough.
Karen has been a regular attendee at the Watertight Marketing 'Lunch and Learn' events, a monthly lunch hosted by a Certified Practitioner in various locations. Karen explains how this helped her… "The book was great, but the lunches helped me to get some sort of order and realise what I should be doing, and why it shouldn't take up so much of my time. That's what convinced me. I still find them hugely valuable and there's the human side of talking to like minded people. It's really worked for me."
The other was slowing down the sales process. Karen directly attributes this to winning new business. "Some of the biggest successes we've had from Watertight Marketing are about working with businesses, slowing it down, taking people through each of the stages, rather than getting them to sign up for a proposal. That's won us some really major contracts we wouldn't have been able to land 2 years ago."
The future
Reflecting on the process, Karen feels the benefits have gone beyond achieving commercial objectives as she is receiving recognition from her NLP peers about her approach to marketing. "A lot of people in the International NLP leadership group are beginning to read the Watertight Marketing book and talk about it. In a way I've achieved what I wanted to as we are changing the way we market with the Watertight Marketing ethical approach."
To cap a hugely successful year for Monkey Puzzle, Karen was named the 'Watertight Marketing Business Owner of The Year' in June 2017, following her success on the Webschool courses for business owners.
Reflecting on the course, she adds, "The Watertight Marketing process has given me the structure that I needed as a busy business owner to work systematically and confidently through a series of investments, in time and money, that I know will pay us back for years to come."
---
© Watertight Marketing Ltd 
Karen was named as the 2017 Watertight Marketing Business Owner of the Year at our annual awards ceremony. Find out more here >