Reading Time: 3 Minutes
One to the key tasks of your marketing is to help your customers to get a sense of what it would be like to work with you, or own your products, before they become a customer. In the Watertight Marketing methodology, we talk about this specifically as part of the Thirteen Touchpoint Leaks™ framework in Leak 4 – No Gateway. In this article, Bryony Thomas, sets out specific examples of how to do this.
The closer you can get a person to the experience of being a customer, before they are one, the closer you will get them to making to making an active and conscious choice about buying from you. There are lots of ways to achieve this, both in B2B and consumer contexts, and and offline, and for both products and service-based offerings.
How to help prospects picture tangible products
If you sell something that people can actually touch and feel, you'll need to help people to do exactly that before they part with their cash. This has traditionally been achieved, in offline contexts:
In a store, this can be further enhanced with a product demonstration.
At a show or exhibition, when you don't have your own store or when you are not carried as stock in others, you can reach potential buyers directly at relevant shows. (Example: This is used in most industries, from massive wedding shows, to the massive B2B technology events.)
Small samples, this is still a highly effective technique where you might take a small pot of paint or fabric strip home to try out in context.
Product placement, this is employed extensively by cosmetics brands – in placing their products in hotels and in-flight toiletry bags.
When you aren't able to actually get your products in a room with someone, as is true when you're selling online, you need to bring it to life on the (often very small) screen. This can be achieved with:
Photography, ideally from multiple angles and in context of its usage – with the inclusion of something that helps anyone to mentally assess its relative scale. (Example: Audenza, who sell beautiful things for your home and garden typically include up to 5 photos of each product).
Video, best exemplified on fashion websites where short catwalk snippets are often used.
Product animation, where you can rotate and zoom in on a product.
How to help prospects picture intangible products
If what you sell is your own knowledge, or complex tailored process, it can be harder to help people visualise what they are buying. This often means you need to think more creatively to tick this psychological box, to include such things as:
A process flow diagram with named stages or creative conceptualisation that has a name (Example: A successful example of this is recent years is Simon Sinek's very simple bulls-eye diagram of his Why > How > What, which he's given the name The Golden Circle)
Creating a diagnostic front-end service, or Gateway Product, that outputs a specific report that can be pre-visualised with a cover and outputs. (Example: The 24 Assets Scorecard used by Daniel Priestley at Dent Global does this brilliantly. This takes a process of questioning and makes it into a highly visual and standardised report that anchors its output within his methodology)

Photography of the process, these might include your team at the whiteboard, etc. These might be tied to your process diagram, with photos of different stages, to bring it to life even more.

Mock-ups of screen views, where you show an image of a screen with your imagery on the screen to help people picture what they will experience. (Example: In our own catalogue of online courses, we include a photo of me on screen to give a sense of a video tutorial).
See also: How to incorporate a Gateway Product to win more business
Techniques that work for most products
Video: You can bring a number of these techniques into play with videos. These can include your people doing what they do, a demonstration or screen capture, a animation of your process flow.
Events: You can run your own seminars, webinars, or speak or exhibit at other people's events to provide opportunities for people to genuinely experience your approach before buying.
Live chat or demos: When you can't see people in person, the next best thing is to jump onto a live call with them. This is usually most likely after they've had a chance to see initial visualisations.
See also: Creating gateways to paying customers – 5 real examples
Future trends in helping people picture your products
Virtual reality: VR headsets are here now. This is not science fiction – what we now do on video will become the norm to do in VR. Could you create a room that people can step into virtually to experience your products and services?
Haptics: Digital experiences have, until recently, been devoid of one of our key decision senses – technologies are well into development that will allow people the sense of reaching into their screen to touch what's there.
Holographic projection: In my mind this will always conjure up pictures of a pixelated Princess Leia from Star Wars – but this has already moved into reality with big name speakers beaming into speak at events from the other side of the world. No doubt… this will be on all our smart phones at some point!

3D printing: 

Could your prospects print out a sample for themselves?
Whatever your product or service, and whomever you're selling it to, taking some time to add ways for them to have experience of buying from you, before they do so, will almost always increase the chances that they will.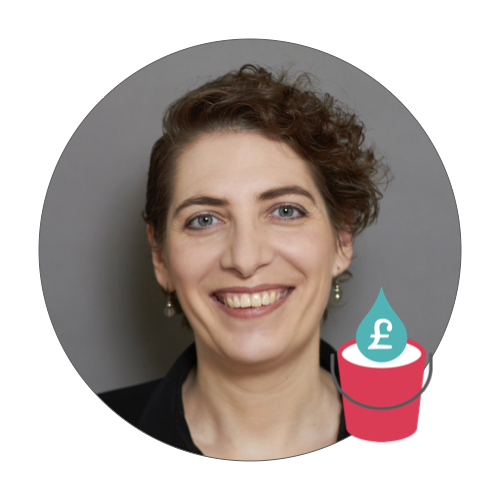 Bryony Thomas
Author & Founder, Watertight Marketing
Bryony Thomas is the creator of the multi-award winning  Watertight Marketing methodology, captured in her best-selling book of the same name. She is one of the UK's foremost marketing thinkers, featured by the likes of Forbes, The Guardian, Business Insider and many more, and in-demand speaker for business conferences, in-house sales days and high-level Board strategy days.