Reading Time: 5 Minutes
Getting the backing of your board for the marketing budget you need to do a good job is a key skill of a client-side marketer. If you're getting push back on your budget requests, here are three key ways to get better buy-in. We invite you to join our #WatertightWednesday roundtable on the topic to take this discussion further. ~ Bryony Thomas, Author | Watertight Marketing
Many marketing budget requests I've seen in my life have simply been a shopping list of the things the marketer wants to do, with an attached price list. Many more are just an arbitrary percentage of last year's revenue, or possibly what they spent last year with a small percentage increase. None of these is a strategic way of setting a marketing budget, and it's unsurprising that they get push back from the board.
In asking potential customers to part with their hard-earned money, marketers will do their research, plan their communications, create a supported path to purchase. But, when asking their board to part with hard-earned cash, it's rare to see as much thoughtfulness.
If you want a better chance of not just getting your budget request approved, but enthusiastically supported, there are three key principles to consider:
There are three marketing budgets, and each needs to be handled differently.
Revenue supporting budgets should be index linked.
Visual budgeting provides an immediate in-built rationale.
The three marketing budgets
If we imagine your three year business plan as the journey ahead, your marketing tools and infrastructure as the vehicle you'll be travelling in, and the marketer as the driver of that vehicle, you can visualise three distinct areas of expenditure. Each of which requires different handling:
The vehicle: Investment & infrastructure, e.g. brand development, CRM set-up, new website, cornerstone content. These are typically refreshed every three years or so, and with payback in that timeframe.
The driver: Your marketing people, e.g. qualified and experienced marketing director and an appropriate team. Get someone with L plates and you'll have a few failed hill starts!
The fuel: Your marketing activity, e.g. lead generation, nurturing and customer communications that you usually expect to payback within a 12-month timeframe.
By separating these out, you're more likely to avoid the common trap of spending all the money on infrastructure and leaving nothing to fuel the journey. A new website or rebrand, for example, shouldn't be seen as coming from this year's activity budget, it should be seen as a capital investment.
Index linked marketing activity budgets
How much fuel you need will depend on the journey ahead, not on what got you here.
I was recently chatting with a marketing manager whose board had set the objective of growing revenue by £10m within 3 years. The current revenue was £11m, and the business was 10 years' old. She hadn't been given any extra budget, and was expected to achieve in three years what had taken a decade. Essentially, she was being asked to drive further, faster, up a steeper hill, with no more fuel. Granted, there will be lessons, goodwill, and credibility from that decade that could be taken forward to speed things up a little – but it would definitely be more likely to happen if well fuelled.
There will be nuance in each case, but our rule of thumb when budgeting for in-year revenue generating marketing activity is:
5% of target revenue for markets where you expect less than 5% growth and/or from an existing client base (you still need fuel on a flat or slight incline).
10% of target revenue for markets where you expect less than 20% growth and/or in a market you're known.
At least 15% of target revenue for markets where you expect more than 20% growth and/or in a market you're unknown.
Visual budgeting with in-built rationale
Each of the three budgets above can be visually represented, in a way that means that the strategic rationale for the expenditure is immediately obvious (See Watertight Marketing, Chapter 9). For each, we recommend you apportion the impact of the time or money spent in each across the decision journeys they support (e.g. a customer journey, employee journey, etc.) This enables your colleagues to see why you're spending the money, not just how much you are spending.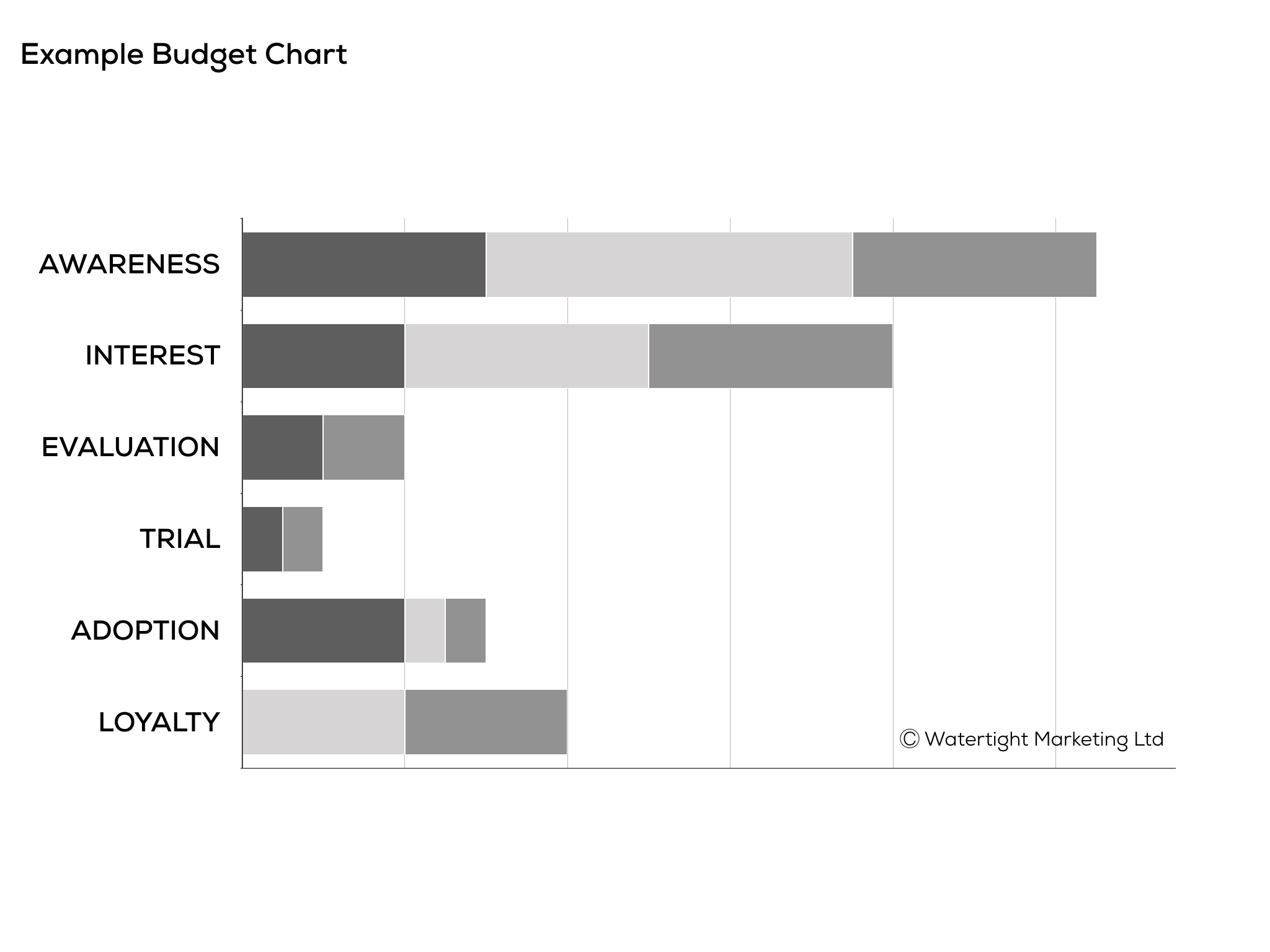 Taking this approach to budgeting can radically alter the conversation, and how you are perceived in the business. When you get the finance director to look up from the spreadsheet to the chart, you can literally see the pennies dropping… right into your marketing budget!
We'll be discussing all things budget at April's #WatertightWednesday. Do register to come along.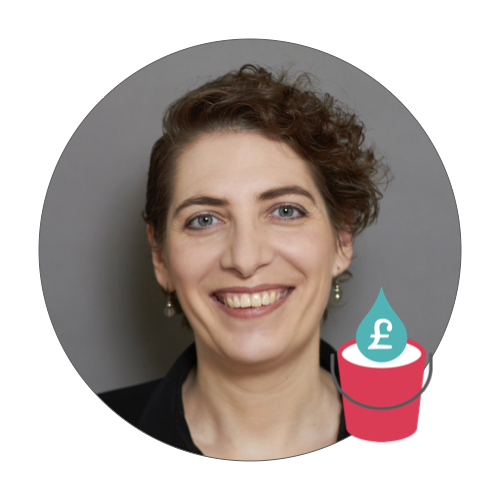 Bryony Thomas
Author & Founder, Watertight Marketing
Bryony Thomas is the creator of the multi-award winning  Watertight Marketing methodology, captured in her best-selling book of the same name. She is one of the UK's foremost marketing thinkers, featured by the likes of Forbes, The Guardian, Business Insider and many more, and in-demand speaker for business conferences, in-house sales days and high-level Board strategy days.