Reading Time: 12 Minutes
If you're aiming for the most senior marketing position or are already there, what skills make this role a success? Our roundtable discussion this month looked at this topic through three lenses: bridging business strategy into marketing operations; time horizons; and the hats a senior marketer needs to wear at this point in their career. ~ Rachael Wheatley, Master Practitioner | Watertight Marketing
55-minute roundtable discussion on what skills a marketing director needs.
Bryony Thomas started by framing the conversation in terms of our Four Flow Foundations (See: Chapter 2 and 11 of Watertight Marketing – second edition) and what a marketing director's role is in each:
First Flow Foundation: The Right Work (F1)

 
A marketing director is there to help answer the questions: Who is our audience and what characterises them? What are we offering them and how do we define the proposition? You have a destination you want them to reach and a decision journey they will take to get there; it's this journey you need to thoroughly understand and make sure others do too.
Second Flow Foundation: Balanced Routine

 

(F2)
A marketing director will look at how to support these people moving to that destination. 
Here, they would be putting together the right plan for the business, given the goals. If the business wants to move from couch to 5K a different plan is needed from the one that will get them an Olympic gold. This is where you would ensure you have marketing for every step of the customer's decision journey.
Third Flow Foundation: Baseline Rhythm

 

(F3)
For this, the questions you'll be asking will be: when and is it working? What measures can we put in place to track volume and the progress of people through their decision journey?
This is the doing bit – enacting the plan. As a marketing director, it's your job to maintain that consistent discipline, the cox at the end of the boat encouraging your team forward and keeping the rhythm and momentum going. In addition, you're also responsible for measurement, resourcing and budgeting, coming together to ensure you can maintain that consistent rhythm and point to how marketing pays back and provides value.
Fourth Flow Foundation: Maintain Momentum (F4)

 
A marketing director's involvement here will be facilitating the Board's thinking around vision, values, goals. and then articulating that through the marketing, communicating both internally and externally.
Bridging the gap between business strategy and marketing operations is a person
In each of the four Flow Foundations, there are a number of strategic projects and oversight that the marketing director will be involved in.
To make sure the right work (F1) is well-defined, what you'd be doing as a marketing director would be:
Customer characterisations

Analysing products and services and the extent to which they meet customers' needs

Looking at the competitive landscape

Clarifying the proposition

Developing the four profit strategies from the Profit-Purpose matrix (See: Chapter 11 of

Watertight Marketing)
To create a balanced routine (F2), typical strategic projects would be:
Journey mapping 

Messaging matrix

Choosing the right tools

Identifying the influencers

Marketing gap analysis 
To ensure you have that baseline rhythm (F3), you would want to put in place and oversee:
Activity calendars

Measurement framework

Skills assessment

Supplier reviews

Resource planning

Budgeting
And, for the fourth Flow Foundation, to keep the business vision, values and goals in sight, moving forward and central to the marketing strategy and plan, it's crucial as a marketing director to be able to articulate the vision in a compelling way. People don't want to hear about numbers – that doesn't usually mean much to them. What makes it come to life is what that vision represents, the impact of having achieved the goals. 
Articulating the values is similarly important. Not only would you want everyone to understand what they are; you would also want to make them real to people, meaningful in their roles, turned into key milestones, three year and twelve month plans and 90-day reviews so that your marketing activity is mapped back to the vision.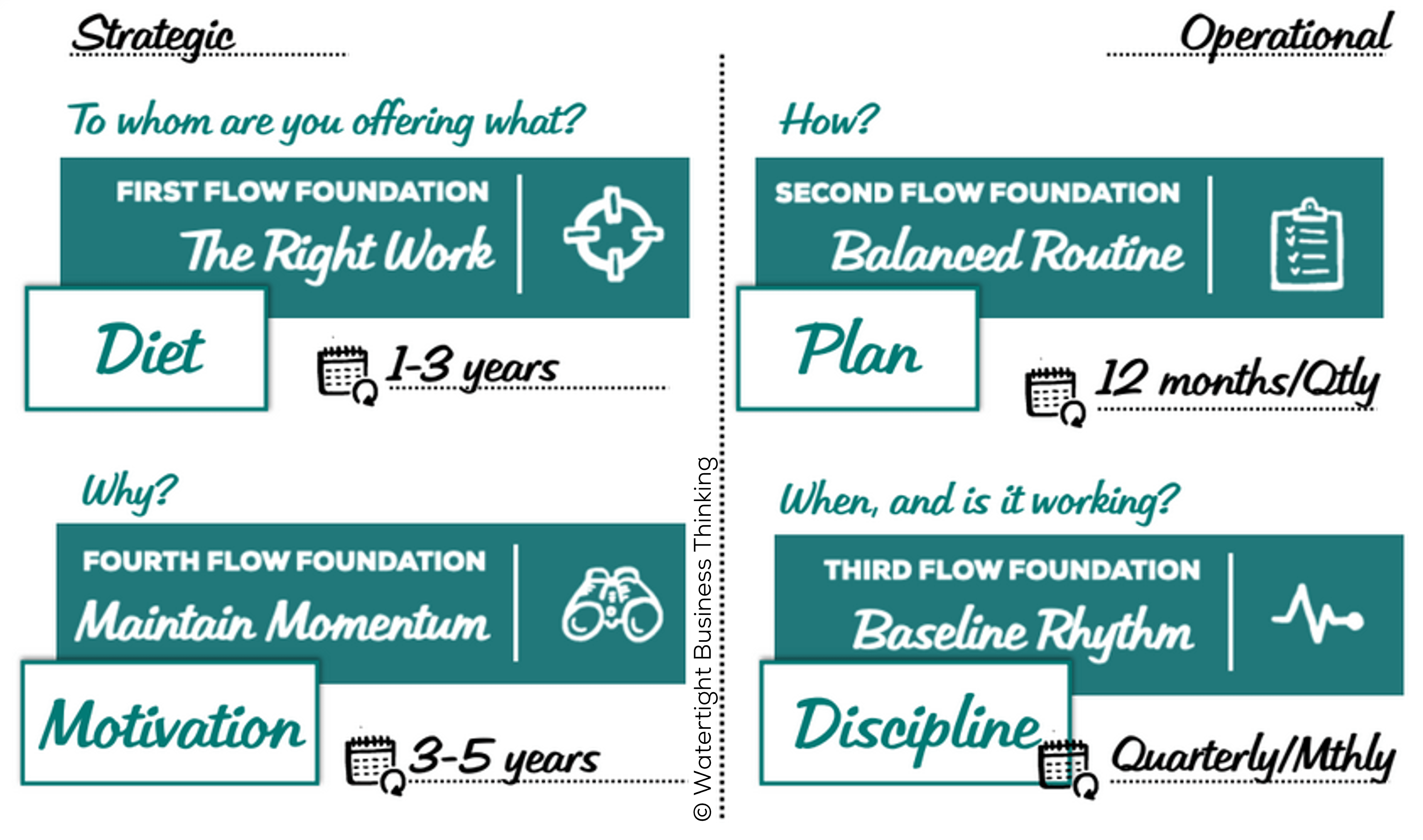 The importance of understanding the different time horizons
The projects involved in determining The Right Work (F1) need to be revisited every 1 to 3 years.
The time horizon for the Balanced Routine (F2) – your plan, choosing and reviewing your tools – is annual with quarterly check-ins and actions.
For consistent discipline, the Baseline Rhythm (F3) needs a quarterly, monthly, even weekly cadence.
And finally, to keep that motivation going, the elements that make up the fourth Flow Foundation (Maintain Momentum) are revisited every 3 to 5 years. Unless, of course, something seismic happens (like a pandemic!) in which case all bets are off and you'd need to re-think everything.
On the strategic side of things, you're looking out and up (F1 and F4) and for marketing operations the time horizons are shorter. 
The marketing director's job is to maintain these cadences – as appropriate for each Flow Foundation – and ensure that the right projects are done at the right time. Your Board will be involved in the strategic side (understanding the audience and proposition and setting the business goals). Here, as marketing director, you'd draw these things out, articulate them, contribute to shaping them, help the Board to 'get' marketing if need be in order to properly use and gain value from the marketing function.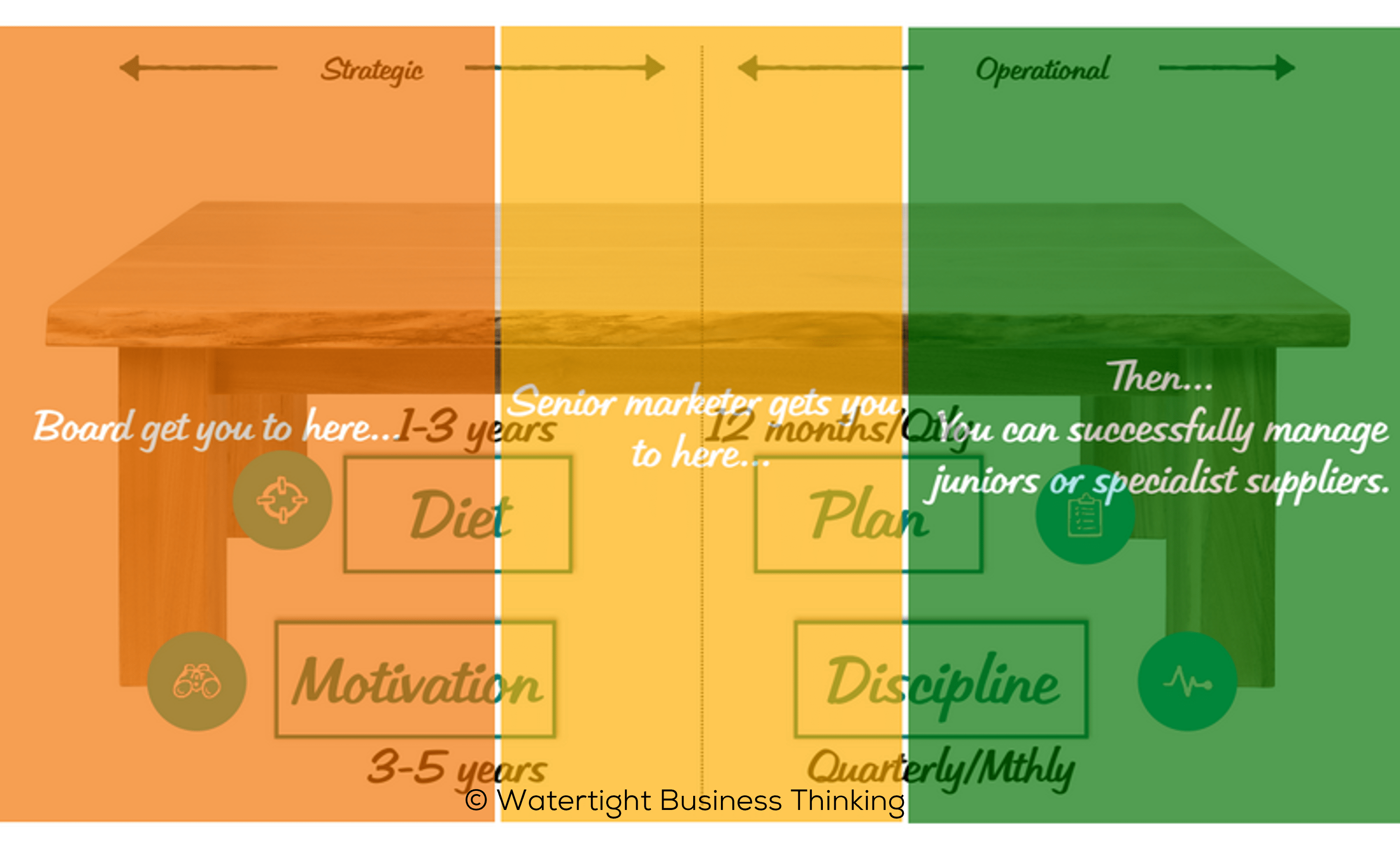 The bridging piece – the yellow in the diagram above – takes the business strategy and translates it into a marketing plan for your team and marketing specialists to enact. The person who performs the role in the middle is a generalist, who knows enough about specialist marketing to choose the right tools and resources. If you've come into the business as senior marketer you'll be bridging that gap between the Board and marketing operations, pushing for excellence whilst maintaining momentum. 
The four hats of a marketer
We've seen four archetypes over the years within marketing teams:
The Doer: Loves nothing better than crossing things off the list.

The Regulator: Thrives on process and monitoring.

The Adviser: Listens, reflects then provides clear opinion and advice.

The Change Maker: Compelled to innovate, shake things up and have the difficult conversations.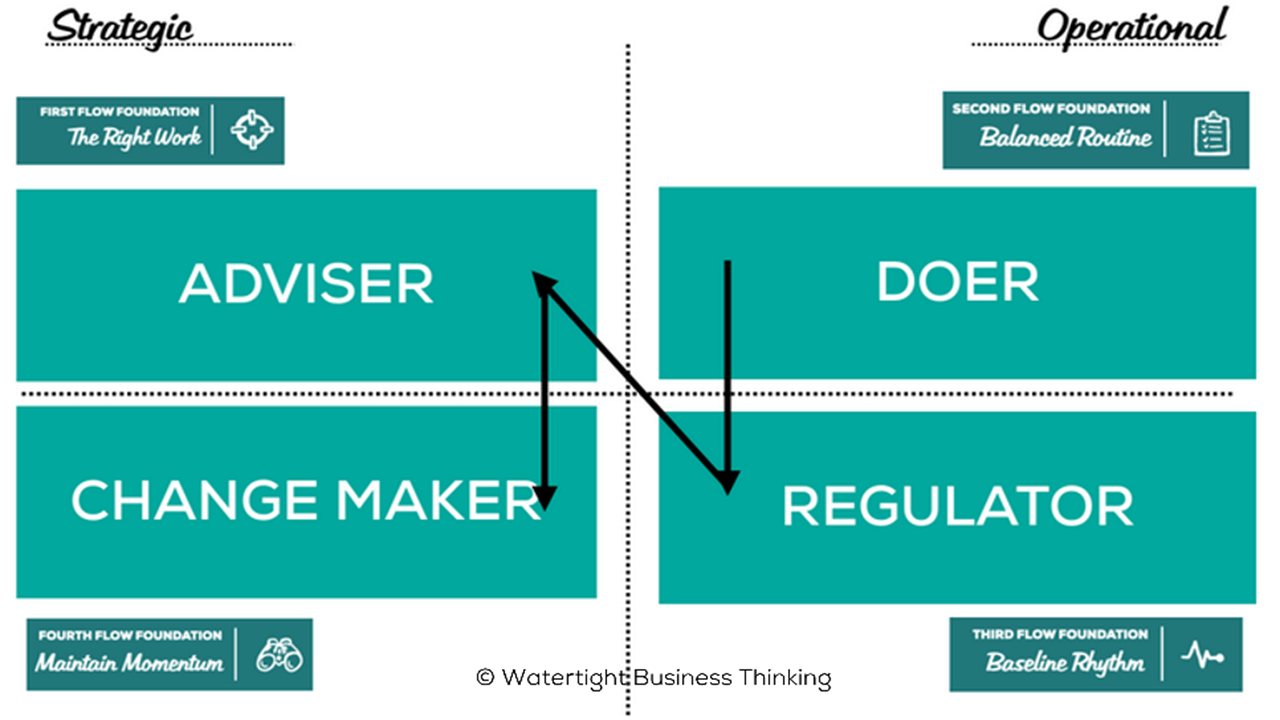 "I think I have all of these hats in my wardrobe; I'll put different ones on, depending on who's in the room and on what job I'm doing." Bryony Thomas.
People do, however, have default characteristics. And, indeed, depending on their role, they might inhabit one box more than any other. For instance, at a more junior level you're more likely to mainly perform a doer or regulator role. As you become more senior, you're more likely to move across and need to wear the adviser or change-maker hat.
Typically, over one's career, you'd move in this zig-zag as you develop skills and experience. 
As a marketing director, you want to draw out the right things from your team, ensure you have the right skills and people in each quadrant.
"Where have you seen this go wrong?" Bryony asked Rachael.
"I think the main reason it goes wrong is because of the mismatch between what the individual does, is allowed to do or perhaps is capable of doing, and what the Board or management want or need. Possibly, that mismatch might reflect the Board's lack of understanding about what marketing is and can achieve, a symptom being that you are pigeon-holed in a doer role, for instance, when actually where you want to operate (and the business needs it) is on the strategic side." Rachael Wheatley.
"One of the key things about marketers – especially at a senior level – is that they have to influence people over whom they have no line management. Because you're articulating the vision, you're bringing people on board, you're getting people to use tools and contribute to a plan that you've designed, these things necessarily involve others outside the marketing team. It requires a helicopter view and the ability to build trusting relationships with people sufficient to influence them." Bryony Thomas.
How do you position yourself for promotion or develop into a more strategic role?
One of the questions asked was this: should you try and do this within your existing organisation or move to another business that already recognises the need for a senior marketer?
"I would say it's easier to be promoted from within the company you're already working for. You can develop your skills and knowledge in an environment you know, before perhaps moving to another company in a similar role." Rachael Wheatley
"However, there are challenges to that," Rachael continued. "It depends whether the people around you will be able to reposition you in their mind. You might have been pigeon-holed. And then, because you've been doing a particular role for a while, they come to you for those things and you can find it hard to move up and inhabit a different, more senior role.
"One way around this is to have an internal champion who helps you to reposition you, who acts as your advocate and introduces you and makes sure you're at all the right meetings so you can show what you're capable of."
"In terms of positioning yourself for promotion, unless you speak the language that the rest of the Board speaks and know your numbers, they won't take you seriously. It doesn't matter how fantastic your marketing skills are, if you're not aligning them with what the business is trying to do or unable to clarify your contribution in a way that the rest of the business understands." Chris Turner, Bright Blue Kite and Watertight Marketing Consultant.
He added: "It is quite challenging to get your business to see you in a different way, particularly if you've come in at an entry level. It's not impossible but it can be easier within a new business."
"In many SME businesses, you're expected to be both strategic and tactical in equal measure…and often businesses that don't really understand what marketing can deliver expect both from someone with experience." Barry Fleming
"In a small business, you absolutely need to step into each box. The key thing is knowing which box you're mainly in and that the person you're talking to has you in the right box." Bryony Thomas.  
What if you're stuck in the doer role? This was a question from one of the participants, who asked how to develop into the more advisory role, especially when you might not have direct relationships with the Board.
"You could ask for permission to do a specific project in a key area where you go and do some research and put together advice and recommendations." Bryony Thomas. In this way you're getting in front of a wide group of people, leading a strategic project (albeit related to marketing) and gaining credibility along the way.
"I wonder, too, whether you could create an advisory relationship with your internal clients, working like an internal consultant. Bring to bear all your experience and knowledge and rather than react to a request, push back and ask questions such as: why are we doing this, what do we want to achieve, who is this aimed at, what action do we want them to take, is there a better way? You're talking through the brief to advise on the best course of action. So, at the point you want to step up your career, you've already developed some of those advisory skills." Rachael Wheatley.
"The other thing I did was to get ahead of the curve in terms of what my boss was doing. So, I knew what meetings they had coming up, and I would go away and do a bit of prep that I thought would be useful. For instance, if you know there's a budget review next week, you could say to your boss: I've done a bit of analysis that I'd like to take you through and suggest some things that you may not already have thought of. In this way, you're being proactive." Bryony Thomas.
"If you're in a doer mode and you're looking to progress forward, you can demonstrate to your boss the strategic element of the doing activity where you're having success. That's a really good way of building your profile within the organisation and to the Board or senior management. You can say, here's the value that's been generated for the business, how it's moving the business forward." Barry Fleming. 
"And", Barry continued, "talk the language of the senior management, pick up on what interests them in moving the business forward, dovetail that with where you've done work delivering against some of those things, highlight examples. Those stories of your successes, told in a way that others understand and explaining how it impacts the business, can be a pathway for you to build your profile."
If you're not the person in the room who will deliver a marketing report to the Board and therefore find it hard to build direct relationships with key people, consider doing a video briefing about how your marketing activities map back to the strategy, what you've achieved and the impact going forward. 
"The way it happened for me echoes many of the things that have been said today. I was a doer-regulator and putting figures and a lot of reports together. Through the sales director, I was invited to present this to the board. You do need that champion who will invite you in. And once you're in, you've got the chance to show that you can also be an advisor, because they will ask questions. So, when you get the opportunity, show you can move into that strategic role as well." Peter Baynes, Watertight Marketing Consultant.
"You can get ahead of that. The budget shaping chapter in the book was a session where I called the half year review, I didn't wait to be invited. I said I was reviewing the effectiveness of what I'm delivering and it would be really useful for me if certain people were in the room, I had some ideas and wanted their input. So, I got ahead of the review, arranged the meeting and invited people to spend half an hour in a room with me. I had some key questions and wanted to create the conversation." Bryony Thomas.
"Using research – customer or market – that you're managing and presenting that can help get you exposure with the Board." Peter Baynes.
"And even if you can't get in the room, do a little video, send it round and ask for thoughts back." Bryony Thomas.
Watertight Wisdom
What's worked for us
Ideas from the group about what skills a marketing director needs. 
Relationship building.

Spend serious time building relationships within the company and develop your champions.

Develop your knowledge and evidence it.

Know your numbers, proposition and marketplace, collate examples and evidence. 

Use the four Flow Foundations.

Show how having these in place, and doing the projects that are contained within them, will support business growth. The model can also help you build a personal development plan.

Be advisory.

Don't

just take a brief and act on it. Develop adviser relationships with your internal clients (whether Board level or not) and bring to bear your knowledge and experience to advise people on the best course of action, marketing that you think will be most effective. 

Be a change-maker.

Challenge the status quo, innovate. If it's in the service of helping the business to achieve its goals, that provides the basis for change.

Helicopter view.

Marketing is one of the only disciplines that touches every other discipline of a business, so a wider knowledge, sympathy and 'collaboration' with all other 'heads-of' is essential

.
Get involved in firm-wide projects.

These can help position you more strategically, build your profile and are a good way of showing people what you're capable of, beyond the bounds of what many people see as "marketing".

Link activities back to the business plan.

Make sure you can point your marketing plans and activities back to the context of the business strategy/plans/goals/vision. 
What would you add to our list?
What would you add to our list? Do let us know your thoughts.
To join the conversation at our next Watertight Wednesday marketing roundtable you can sign up here. Return on marketing investment and demonstrating its value is a perennial topic. So, next time we're talking all about metrics and how to get buy-in from your colleagues.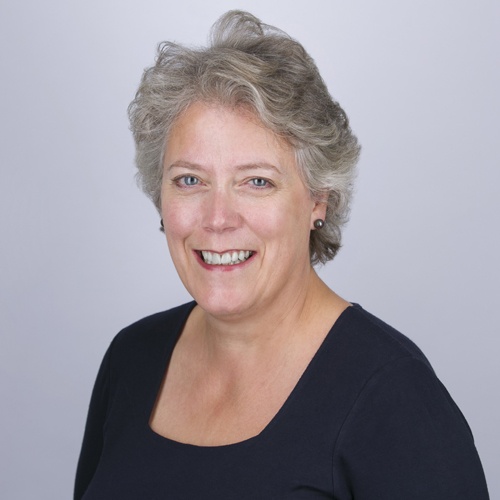 Rachael Wheatley
Managing Director, Watertight Thinking
Rachael brings over 30 years' of marketing experience, with a particular focus on building and developing effective marketing teams that are able to act as a strategic driving force across an organisation. She has worked with Watertight since 2014 as a Master Practitioner and joined the business as MD in 2022.