Reading Time: 5 Minutes
When I ask the leadership team of a growing business about their vision for the next 3-5 years, I will almost always be given a revenue number they want to reach. For me, this is like talking to people about a road trip by junction number. It's practical, but not compelling. In this post, we explore how a marketer can use narrative to really bring things to life. ~ Bryony Thomas, Author | Watertight Marketing
The journey metaphor is often used in business, where your vision acts as the destination you're heading towards. Let's say we're planning a trip to 51.5072° N, 0.1276° W. It would be a rare individual who knew immediately where that was or was excited to come with me based on that information. And yet, if you talk about your business objectives in revenue, or EBITDA, this is exactly what you are doing!
If I said that we were heading to London, a few more might want to come. If I said we were heading to London to wander around museums and art galleries, some would be thrilled but I'd probably have the musical theatre lovers groaning at the prospect.
For someone to be excited about a journey, you'll need to give them a sense of where you're going and what it's going to feel like. More than that, if it's a long trip, you'll need to reassure them that there will be comfort breaks and even make something of it by stopping for lunch or excursions along the way (milestones).
Your numbers (financial, employee growth, client volumes, etc.) are like the road and junction numbers, your metaphorical sat nav if you like. Knowing and planning these things significantly increases the likelihood of reaching your destination. However, without a narrative (why, what you'll see, what you'll do there, how it will feel, etc.) to accompany each number, the chances of people wanting to come with you declines significantly.
You want the people that you need to support your journey to be excited. This means that communicating your goals as if you're an AI (whilst efficient) just isn't as effective as a good old human story!
You need humans to want to come with you. The best way to do that is, and has always been, to invite them to feel part of something.
Employees: Finding and keeping the best people is definitely not a numbers game. The people you'll want the most are likely to be in high demand. It's the employer they feel most excited to work for that's likely to win.
Customers: Increasingly, people are consciously choosing the businesses they spend money with as part of their identity, for example those sharing their ethical stance.
Investors: Of all the audiences, these are perhaps the most numbers-driven. But that's certainly not the whole story. Many investors, particularly angel investors, are as (if not more) motivated by being involved with something exciting and meaningful as with the return they'll make.
Cheerleaders: Any business owner will tell you that keeping their families, friends and others around them on side is deeply important. People who care for you will want to know more than just that the money is good.
Referrers: The best referrals come from word of mouth, and word of mouth comes from people having something interesting to tell others!
Suppliers: We are quite picky about who we work with, and always need to get a sense of the values and the story we're part of. We want to feel proud of who we're working with, and I know we're not the only ones.
As a marketer in a business, it is your job to craft this narrative. We often draw this out by asking clients to consider writing a charity style 'impact report' on their business, and then to forward project to what this would look like in 3-5 years' time.
My early years in marketing were in the charity fundraising sector, and I can tell you that asking for a £10 donation for 'good work' is nowhere near as effective as asking for a donation that's enough to save someone's sight, or that 'give a regular donation so we have certainty of income' is less successful than 'sponsor a child'. Why? Because, there's a narrative to the number!
You need to do the same for the people you want to join your journey. If you trot out a revenue figure, they'll most likely think they're paying for the founders' next sports car. If you talk them through the Ripples of Revenue, e.g how many people will gain a qualification through the development opportunities you provide, how many families will be lifted out of poverty through the meaningful rates of pay you offer, how many new graduates will secure their first role with you, etc. this is much more motivating!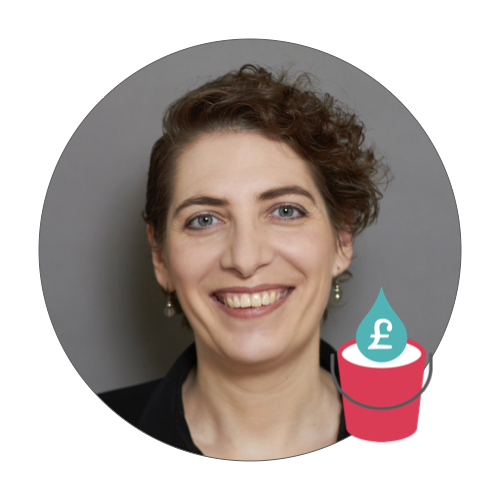 Bryony Thomas
Author & Founder, Watertight Marketing
Bryony Thomas is the creator of the multi-award winning  Watertight Marketing methodology, captured in her best-selling book of the same name. She is one of the UK's foremost marketing thinkers, featured by the likes of Forbes, The Guardian, Business Insider and many more, and in-demand speaker for business conferences, in-house sales days and high-level Board strategy days.