Reading Time: 10 Minutes
"Agreeing vision, values, goals and milestones is a shared responsibility across the leadership team. Marketing's role is to turn these into something that engages and inspires employees, suppliers, clients and prospects alike. To do that, you need numbers and narrative. Each has an important part in motivating your audience." ~ Rachael Wheatley, Managing Director | Watertight Business Thinking
55-minute roundtable discussion on creating an organisational marketing capability
To put vision, values and milestones in the context of the Watertight framework, it sits within
Flow Foundation
four. It's on the strategic side and is one of two key 'pillars' of marketing that need to be in place for marketing to work.
In fact, it's the first Flow Foundation we review. If a business doesn't have the vision, values and milestone clear and shared within the business, there's absolutely no point in thinking about Flow Foundation one, what the right work and clients are for your business.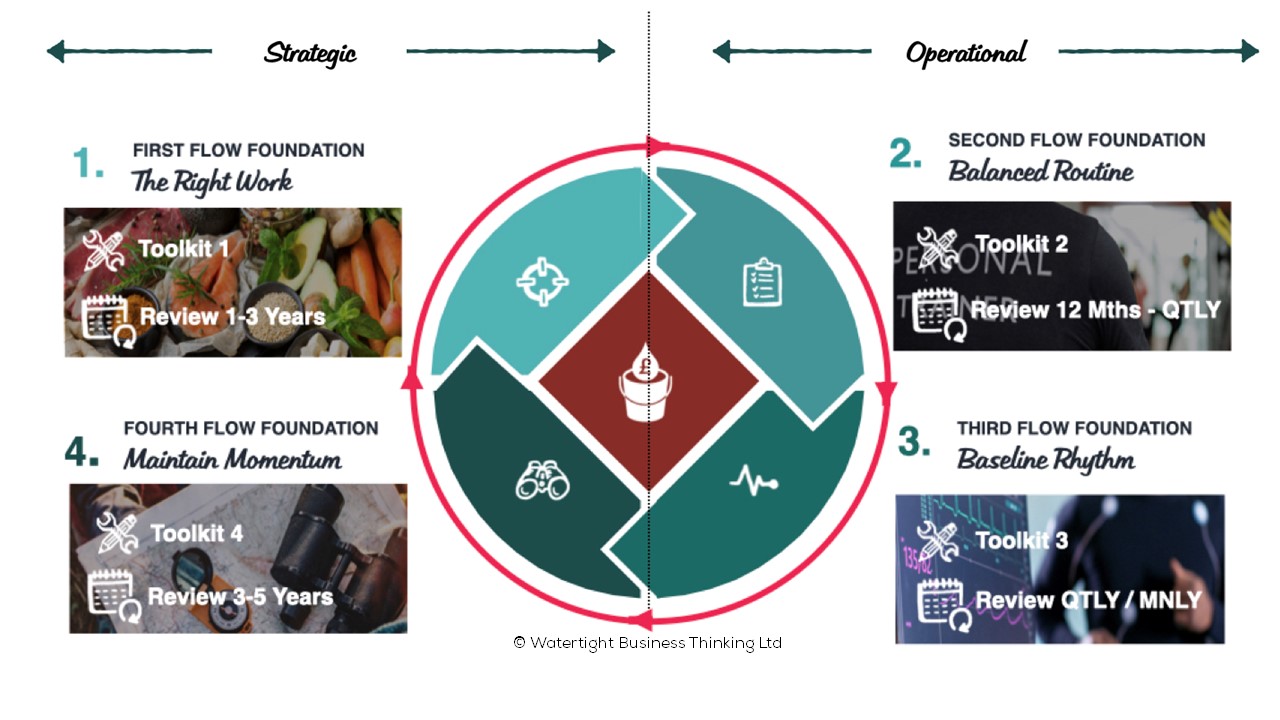 It's not uncommon for businesses to frame their vision in terms of revenue. Is it a clear goal? Yes. Is it motivating for your staff? Unlikely, in itself. Without some kind of narrative it won't inspire: why are you aiming for it, what does it represent in terms of new clients, lives affected, business impact? How do you know you're going in the right direction?
Two key strategic projects to bring vision and values to life
Maintaining enthusiasm is made possible by a compelling business vision that is translated into a clear plan. So, once the vision, values and milestones are agreed, there are two key strategic projects we see sitting within this Flow Foundation that marketing facilitates and runs:
Articulating the vision
Articulating the values
These two projects and the toolkits we have will help people want to come with you on the journey.
Articulating the vision involves looking first at financials. It might involve setting out what size you want to be and how many offices. When you ask a Board about vision, it's usually the numbers you'll hear first. Profit goals, number of employees, numbers of clients, EBITDA. That's the destination. But it can be a bit dry. It's like giving junction numbers to a child on a journey – "we'll be half way there when we reach junction 19" means nothing to them! Often, unless it's explicitly said, people don't realise that whilst those financial goals might be dry, there might very well be an unexplained narrative behind them. For instance, with more profit, more good things can happen: bonuses, benefits, training, wage increases, fun stuff.
There are also other things to consider that add depth, breadth and colour to that vision. What's the impact you want to have, what's the legacy you'd like to leave? What contribution do you want to make to the world, the sector, your community, the lives of employees or suppliers. What reputation do you want to have. And, what are your personal aspirations in terms of career or qualifications?
When you're asking these questions, you're looking for some milestones to show progress. When we get here, we'll have helped 100 businesses or we'll have provided jobs and financial security for 10 more local families.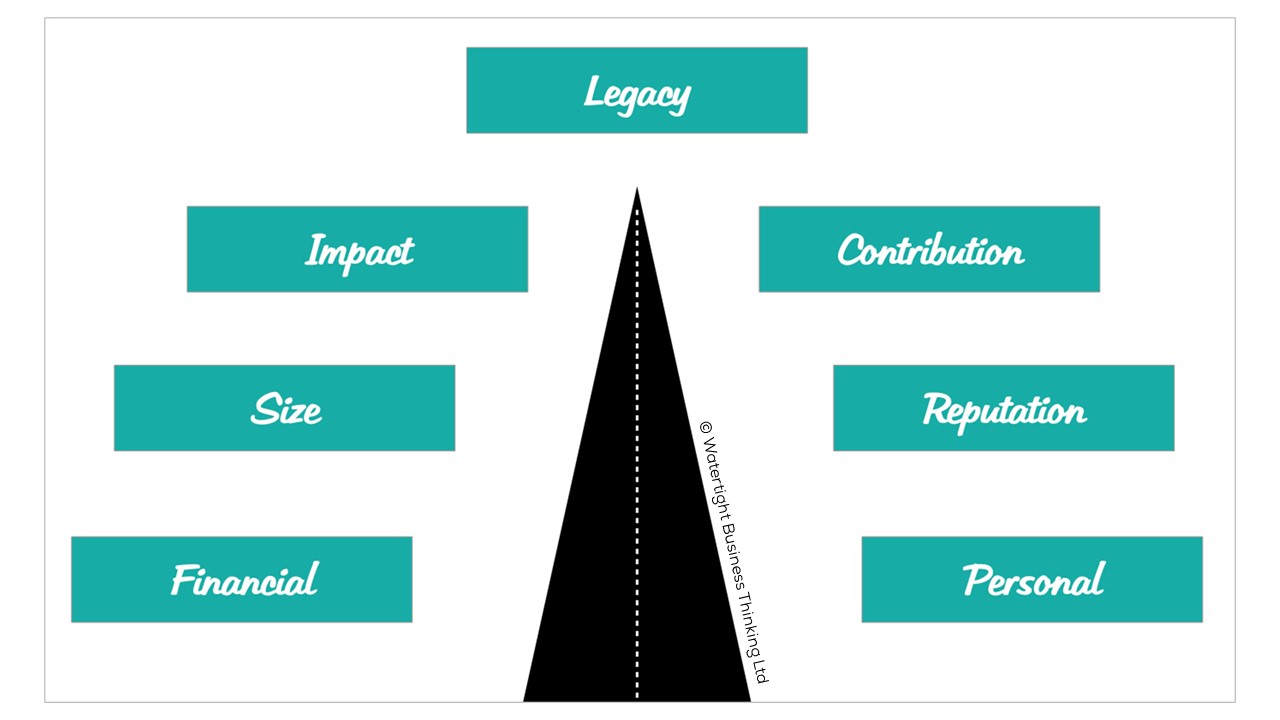 Articulating your values explores your beliefs, what you want to be known for. In doing this it's helpful to discuss internally what makes you joyful or angry, what your boundaries or 'red lines' are, what you want to be part of, what you'd never or always do. These things will guide your decisions – no, if it's something that crosses your values; yes if that decision aligns with them.
When you ask a Board about vision, it's usually the numbers you'll hear first. Profit goals, number of employees, numbers of clients, EBITDA. That's like the junction numbers – clear, but unengaging. And, often, unless it's explicitly said, people don't realise that with more profit, more good things can happen: bonuses, benefits, training, wage increases, fun stuff. Often they assume that increased profits will solely go the owner or shareholders.
The ripples of revenue question
"When I was working at a law firm the vision was all around numbers: revenue and profit per partner. As an employee, this focus was not at all motivating. When we did start to talk about vision, values and goals and, importantly linking them together and what that represented, it was so much more engaging. I could get behind it when it was about becoming an employer of choice or becoming experts in a particular field. If you're in family law, that translates as: how many families can you reach with good advice. If you're a conveyancer, it's how many people can you help through a very stressful situation that's involved when someone buys a house."  Rachael Wheatley.
Bryony Thomas: "Yes, it's thinking not merely about the revenue but the ripples of that revenue. If you reached that goal, how will that affect the lives of your different audiences?"
"It's a really good question for people to ask: what are the ripples of revenue that exist within your business? It generates interesting thoughts and discussions and helps people move beyond purely the numbers into the narrative." Rachael Wheatley.
Bryony added: "When I've asked a room full of senior leaders, they come up with all sorts of ideas, which talk to the good things that they're going to do with that revenue. But it doesn't always go down so well with employees. It's not always obvious to people; you might need to draw it out and you might have to repeat it."
Your narrative needs numbers
​When it comes to values your narrative needs numbers. So if one of your values is providing young people with employment opportunities, how does that translate to the number of paid internships you'll provide? What can you count that will demonstrate your values are more than words?
It's equally true of your vision, if that's only expressed as a narrative. Kerry Turney: "I've recently joined Lumina Technologies and I've had a go at re-writing our vision. Mine was all narrative and no numbers. The CEO absolutely loved it, in terms of talking about the impact of job creation, helping small and medium sized businesses who are the economic life blood of communities, helping them means they can grow. I didn't include numbers in my first draft."
"We do see one or the other. The senior management will come out with numbers. The head of people or culture might come up with something more narrative. Some people are more logical and some more emotional and want to talk about impact. So the point is – you need both, to appeal to different people and for one to make sense of the other. You need the destination, the map and the tourist guide that says it's going to be fab." Bryony Thomas.
Think about the impact of your vision and values
In some businesses, it's relatively straightforward to think about the impact. Bryony gave some examples: "At Nviro, one of our clients, they're really focused on making sure their cleaning operatives are treated with respect and well paid.
"In other circumstances, it's harder. In a law firm, of course lawyers are paid well, how can they make an impact? It could be on businesses, healthcare organisations, families, couples, children, depending on the area of law.
"One client we're working with makes promotional merchandise and 80% of their products are British made which is a good narrative. Their numbers will be around how many family or British manufacturing businesses they're supporting. So whatever you do, the nature of running a business will mean that you are impacting the lives of others."
Values also inform tough decisions – choosing to hire or not hire someone, work or not work with a client. These are the things where you run the values up the flagpole: does my decision on this align with our values? Take the current recruitment problem that exists at the moment. The company which is going to win employees who are in demand is not the company focused on making loads of profit, it's the one that they'll be excited to work for. If all things are equal, people will go for the company can engage with their vision, values and goals.
Make sure the numbers and narrative are relevant to your audience
Remember that different audiences will need a different numbers and narratives to engage and enthuse them, whether they're customers, employees, suppliers or funders.
"We work with some businesses who don't even have vision, values and goals written down. It's important to share across the organisation because it guides decision-making, for finance, HR, all sorts of areas in different ways. I've used a company's vision and values recently on briefing some content creators. It informs tone of voice, too." Cheryl Crichton
"When I ran a session to explain vision and values for employees, they just didn't understand. They could get the vision, but couldn't join the dots between the business being more profitable and making a decent margin with clients meaning that employees could be paid more. It needed to be drawn out much more explicitly. It's a good example of a different narrative being needed for a different audience." Melanie Osborne
"Sometimes you have to pivot. To use your journey analogy, sometimes the place where you're stopping off is closed, so you need to go a different route. We've had people not wanting to engage in the process of understanding what vision and values means for them, but it is important to do it, and keep it fresh." Liz Davidson
"It absolutely needs to be part of everything, even if you only revisit vision and values every 3-5 years. It needs to be lived, and really brought to life. Every board meeting, every team day are an opportunity to share with people what's happened that month – how you've lived your values, how decisions have been informed by them. And that way, if the route changes, you can still show how that isn't changing the destination." Bryony Thomas.
Apply and demonstrate your vision and values
Bringing it to life along the way can be done with examples – that people can relate to. "Perhaps every quarter you might relate back to the vision, values and goals and share a recent example about how a situation demonstrated values lived in practice or the work with a particular client showed how the values aligned. It shows you're not paying lip service to these things." Rachael Wheatley
Barry Fleming added an example of how to bring these things to life within an internal audience. "As well as having the vision and values on the website, on material and collateral, you can have sales people talk about them in presentation. Often it's the people who are doing the day-to-day delivery that need to understand what they mean and how they interpret those within their role. One programme I've run worked really well. I built a programme for them and gave them the tools so that they could actually deliver the programme themselves. What made it relatable for them, was actually a tone of voice guide. They challenged the way the company talked and changed it from brusque with lots of jargon to a way of bringing across the human side of the business and the way people really cared about the service they delivered. They decided they wanted to create this document and integrate it into the way we communicate with our customers."
Bryony Thomas: "We've been working on something similar with Nviro but for the external audience – a customer charter which explains how we expect customers to behave and treat staff that accord with the company's values. These are based on real examples of situations that have arisen that we want to improve."
Peter Baynes added an observation on how to make values real. "Values are very much part of your brand, which itself is a perception in the minds of your customers. I've found doing customer research projects useful; they tell you what they think your values are and whether they align with what you do. Sometimes you can pick up on something that the customer values that you didn't realise they did. You could then build it in to your values."
"That goes to the right work and the profit/purpose matrix and making sure that you attract the sort of people that are going to light you up – it's a cycle. One of our other phrases is that effective marketing shines a light on the truth. Go and find the truth and shine a light on it." Bryony Thomas.
Watertight Wisdom
What's worked for us
Ideas from the group about translating vision and values into something that engages and gets buy-in:
Numbers need narrative and narrative needs numbers. It's the combination of the two that provide the engagement and inspiration.
We believe this, therefore, we're going to count that. If we hit this number, we're going to be able to do that. Run this through your business and vision, values and milestones will really come to life.
Talk about the impact of your vision and values. This brings depth and breadth to both.
Use them to inform your decisions. Values in particular can be the guide against which any business decision is viewed.
Bring vision and values to life with examples. These also show that you're not just paying lip-service to either.
Equip your people to agree their own contribution. This is far more powerful and effective than handing down to people what you think their contribution should be.
You need to be flexible. Sometimes the route needs to change, even if the end destination stays the same.
Regularly repeat vision, values and goals. And point at each opportunity to how these are being demonstrated.
What would you add to our list? Do let us know your thoughts.
To join the conversation at our next Watertight Wednesday marketing roundtable you can sign up here.​ Next time we will be talking about Creating an organisational marketing capability.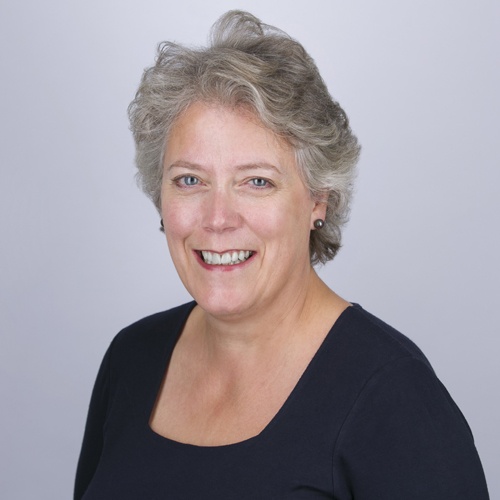 Rachael Wheatley
Managing Director, Watertight Thinking
Rachael brings over 30 years' of marketing experience, with a particular focus on building and developing effective marketing teams that are able to act as a strategic driving force across an organisation. She has worked with Watertight since 2014 as a Master Practitioner and joined the business as MD in 2022.