What results do people achieve?
Whether you work through an intensive transformation programme, or dip into the Watertight Webschool, what we want for you is real results in the form of sustainable sales growth.

Increased Confidence
A clear understanding of how marketing supports every step of a sale, and a way of making decisions that ensures that you maintain momentum in the right direction.

Increased Alignment
A common language used across your whole business, allowing people to understand and enjoy their contribution to business growth.

Increased Sales
Sustainable and repeatable sales results that increase in a predictable way over time, giving you a steady platform for scale.
Some Stories From Our Clients
However people navigate through the Watertight Marketing methodology, the outcomes have a common theme… relief and results!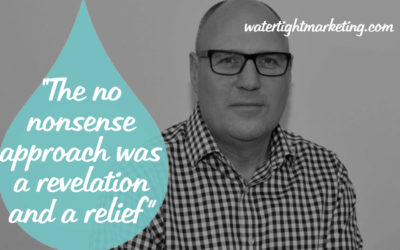 B2B Marketing Case Study | Ascentor is a cyber security consulting firm, who started their journey with Watertight Marketing as a £2m turnover business with a team of 12 in Gloucester. They were acquired in EMB in 2017. Dave James, MD, credits his learning with Watertight Marketing, and the ongoing support of a Certified Practitioner with setting their business apart in a crowded specialist market. He described discovering the methodology as "a revelation and a relief."
read more
What could you achieve?
If your business is looking for similar successes to these, and many more clients, there are three ways to work with us.

A 12-24 month process lead by Bryony and team, typically suits a seven-figure (upwards) business with 25 or more people.

For smaller teams, or those who want a lighter touch, you can connect with one of the Certified Practitioners directly.

Jump into our comprehensive learning platform, with courses and resources to accompany every key concept.
Thinking about working with us?
Considering a company learning account or transformation programme…
Please do book a time in the diary, or call us on 0117 325 77 25, to tell us more about your organisation so we can work out if and how Watertight Marketing might fit.